Controversy over Purpose of Park Renovation
By Ernest Petrosyan
Wednesday, September 21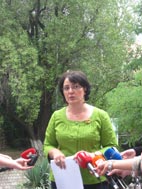 Tina Khidasheli, a Republican councilor, held a briefing in Mziuri Park criticizing Tbilisi City Hall on September 20. Khidasheli protested the permission for planned construction in the park which is currently undergoing renovation works. Khidasheli claims that no information about the recreational zone size was announced at a Tbilisi City Hall's briefing on August 25, during which the model of the renovated park was presented. The recreational zone in the park, she claims, is now under threat.
Khidasheli said that Tbilisi Architectural Service had permitted the reconstruction works before the August 25 briefing had even been given. She demands City Hall provide information about what size the park recreational zone was supposed to be initially, what size it is now, and what size it will be upon the completion of the renovation works.
As Khidasheli stated to The Messenger, there is another building under construction in the park, which will have commercial and residential functions. This project, initially, was not permitted by Tbilisi City Hall, but this was reversed later. "The building is exactly located in the park's recreational zone covered with trees, which according to the project will be reduced and replaced by a building with an inappropriate function," Khidasheli said.
However, the City Hall speaker, Bacho Dolidze, called on Khidasheli to be more competent. Responding to Khidasheli's claims, Dolidze stated that the area Mziuri initially had will be maintained.
"It is incorrect to speculate on every topic, especially topics our colleagues are incompetent in. This is a recreational zone, and accordingly no permission, except the objects with a recreational function, was issued. By a joint initiative, the city and the private sector have undertaken to restore the recreational status for Mziuri Park which it previously had," stated Dolidze
As he stated only recreational objects, namely fitness clubs and two Olympic size swimming pools - open and closed - will be constructed in the part.
"As for Khidasheli's accusation regarding illegal construction works, this is absolutely incorrect. If Khidasheli means other objects which look onto Mziuri Park, they are not illegal since all of them are built away from the recreation zone. I call on Khdiasheli to be more competent," said Dolidze. "Mziuri Park will soon become a recreation zone that every Tbilisi resident will be proud of," added Dolidze.
Khidasheli however challenges Dolidze's position.