UN General Assembly Session Underway
By Salome Modebadze
Wednesday, September 21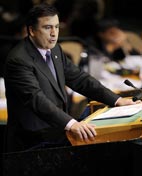 Georgian President, Mikheil Saakashvili, will express the position of Georgia on regional security at the 66th Session of the United Nations General Assembly on Thursday. As the president's spokesperson, Manana Manjgaladze, said on Tuesday, Saakashvili would also introduce the audience to the political-economic reforms in the country. The Georgian delegation has successfully started bilateral meetings with various countries in New York. Leaders of Switzerland, Finland, Latvia, Lithuania, Kazakhstan, and Nigeria are in the list of scheduled meetings with the Georgian President. Saakashvili will meet the former US President Bill Clinton among the other events during the UN session.
Manjgaladze also emphasized the importance of the Open Governance Cooperation initiative for Georgia which recently joined and the Eastern Partnership Summit in Poland which should "deepen relations between Georgia and the EU and ensure more solid guarantees of security in the region."
Meanwhile Grigol Vashadze, the Minister of Foreign Affairs of Georgia (MFA) met with UN Secretary General Ban Ki-moon and his counterparts from six countries in New York on Monday as part of the UN General Assembly's session. The difficult situation in Georgia's occupied territories, violation of human rights by the Russian Federation and continued militarization in those territories were among the issues discussed with Ban Ki-moon.
The MFA of Panama, Roberto Henriquez, has positive words for Georgia: "I was happy to discover that our countries are so far away but we have much in common – we stand on a similar logistical platform. The geographic location makes both Georgia and Panama transit countries. I appreciate Georgia's attempt to become significant for the rest of the world and develop tight contacts." Meanwhile the Turkish Foreign Minister, Ahmet Davutoglu, emphasized the friendly relations between the two countries and announced the next meeting in Ankara.
Georgia also signed a diplomatic communique with two African states. As Alexander Lomaia Georgia's Permanent Representative in the UN explained to the media, by signing the communique the sides agreed to respect the territorial sovereignty of one another's countries and start developing bilateral cooperation.
The UN session opened on September 19 and will close on September 23. It will become a place of active debates about the global problems the world is facing nowadays. Participants from around 200 countries will have to express their position on Palestine which is looking for independence and thus create the basis for a new state on the world map.