Everyone Should Get Involved for a Greener Economy
By Etuna Tsotniashvili
Thursday, October 6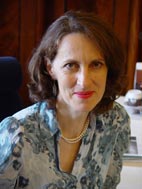 The Messenger recently conducted an interview in Astana, Kazakhstan, with Jacqueline McGlade
, Executive Director of the European Environment Agency.
Thank you for agreeing to give an interview to The Messenger. First of all can you explain what the term 'green economy' means? It was a key theme of the Astana Ministerial Conference.
The idea of a green economy is made up of many parts and that is why it is challenging to define it. But there are some clear points about it. One is a genuine move to decarbonise, to remove the carbon we use; secondly, in a green economy we have resource efficiency - this is not just to do with energy but with water and genuine attempts to think about the whole life cycle. In other words, the green economy is not restricted to what happens on the territory of a particular country, but how helping a green economy to grow depends on impacts on other parts of the world. Overall, a green economy is one that results in improved human well-being and social equality while significantly reducing environmental risks and ecological scarcities.
There are some places which are on the edge of desertification, are there any regulations harmonized with the country of Georgia?
In many regions of Georgia, agricultural productivity and then water was created by using natural windbreaks such as trees and the natural landscape's fuel to burn energy, so there was what I would call a denudation or removal phase which the natural landscape needed protection from. However, I was encouraged with the examples in Georgia where regeneration and replanting are working incredibly well, even creating new ecological variation, we see productivity increasing again but the process is happening on a small scale. The government must be much more aware of how whole ecosystems work. So I think the biggest message is that any governmental environment report should talk about the restoration of small ecological corridors to create both water flow and also the possibility of rebuilding the soil.
Generally drinking water is not a problem in Georgia. In contrast to other countries we have fresh natural drinking water. But as we face climate change do you think it may affect our country's spring waters? Are there any risks?
Generally I think that the level of pollution in drinking water is much higher than we would really consider safe. Australia is a very good example where they have huge water shortages as well as in some areas where water is becoming more polluted because of the very fact of there being less water. So fundamentally one of the most important things the government needs to do is to establish water rights which gives everybody an opportunity to have access to drinking water and not as a reserved pool, this is a top priority to be protected. I suggest governments establish resource rights, and water rights so that you can protect even the poorest people in society where everybody contributes even as little as one euro, one US dollar, one small amount of money helps to protect the most secure bubble of water for drinking water sanitation.
At the end of our interview what would you like to say to our readers, do you have any recommendations for them?
My biggest recommendation is to get involved, find out about your local environment, protect nature and be pro-active in terms of protecting the environment, understanding that it is really the basis upon which everybody survives and it is not just the government's responsibility, but actually every citizen's responsibility to take care of the environment.
The 7th "Environment for Europe" (EfE) Ministerial Conference, held in Astana from 21-23 September 2011, concluded with a commitment by the governments of the United Nations Economic Commission for Europe (UNECE) region to take the lead in the transition to a green economy. In the declaration adopted at the end of the conference, the ministers of the environment of the UNECE region confirmed their "commitment to improve environmental protection and to promote sustainable development in the UNECE region." They also "reaffirmed the important value of the EfE process as a unique pan-European forum for tackling environmental challenges and promoting broad horizontal environmental cooperation among countries in Europe, North America, the Caucasus and Central Asia, and as a pillar of sustainable development in the UNECE region for 20 years."
Looking at the challenges ahead, the ministers declared "we agree to take the lead in the transition to a green economy and to make a substantive contribution to the discussions on green economy within the context of sustainable development and poverty alleviation at the United Nations Conference on Sustainable Development to take place in Rio de Janeiro from 4-6 June 2012."