Georgia Expectant as Ivanishvili Throws Hat into Political Ring
By Gvantsa Gabekhadze
Thursday, October 6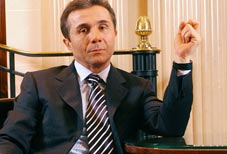 "I have decided to form a political party and take part in the 2012 parliamentary election"- this one sentence made by Georgian billionaire businessman Bidzina Ivanishvili, spread by the press office of Kartu Group on October 5 created a wave through Georgian society. Surprise, optimism and scepticism were the main feelings the decision created in Georgian politics and analysts, though all came to the same conclusion – this was a significant change to the current political situation.
Unfortunately, currently no additional information concerning Ivanishvili's statements is known. Kartu Group reports that the full text of the statement will be released on October 7. It seems the information is correct, however it is not known yet in what form the businessman, who has never been involved in political issues and who is mainly known for his charity, will launch his way into politics and "make Georgian dreams come true" – as his son Bera Ivanishvili put it on a social networking site.
Georgian authorities have refrained from making concrete statements regarding the oligarch's entry into politics and mentioned that they will be able to assess the decision when Ivanishvili makes an official statement. The vice speaker, Gigi Tsereteli, was quite moderate and diplomatic in his statement and mentioned that, "people who are successful in business want more power and come to politics, despite the fact that working in politics is not always positive, they become somewhat restricted and have to listen to many unpleasant things." At the same time, Tsereteli described Ivanishvili as a positive person adding that everyone in the state has a right to make decisions and freely express viewpoints. However, a fellow majority representative, Nugzar Tsiklauri, did not wait before mentioning the origin of the capital accumulated by the businessman: "October 7 will show what influence the capital raised in Russia by Ivanishvili has made on his political views."
The reaction of the opposition can be described in one word – confused. Statements of different opposition parties significantly differ from one another. As a representative of the parliamentary minority, the Christian–Democrats, Levan Vepkhvadze, said Ivanishvili's appearance might change the election date: "if the authorities feel a threat from Ivanishvili's political party, they might appoint pre-term elections in spring." He also stated that holding elections in spring would be profitable for the ruling party as in a year their rating would be significantly decreased. According to the parliamentary opposition MP, Guram Chakhvadze, time will show whether a successful businessman is a successful politician or not: "society takes Ivanishvili as a businessman who does good things, however what kind of politician he will be, this is another question."
The businessman's decision was not unexpected for the non-parliamentary opposition Republicans, due to one simple reason, "everyone who has made money has a desire to come to politics," the party's Levan Berdzenishvili, said. According to him, Ivanishvili's participation in politics will resemble other Georgian businessmen's desire to be in politics. "This is a specific case, so there is always a certain number of votes the new political figure will get, but businessmen have no decisive importance in changing the political spectrum in the country".
Unlike the Republicans, the National Council did not hide their surprise. As the chair of the council, Zviad Dzidziguri, said, it was really an unexpected announcement for him: "I will wait until Ivanishvili makes an official statement. I am interested in why the businessman decided to get involved in politics."
The opposition New Rights have already stated beforehand that they will not be united with any political party , including Ivanishvili's one. " I cant's say anything more regarding the issue, as Ivanishvili's figure has always been mysterious, as for participation in elections, this is everyone's legal right," party leader, Davit Gamkrelidze, said.
The Labour Party do not perceive Bidzina Ivanishvili as a political figure . One of the leaders of the party, Kakha Dzagania, stated that he and other leaders consider Ivanishvili a businessman today, not a politician, and they are not going to comment on the political statements of a businessman.
The only opposition party which definitely expressed happiness towards the businessman's decision was the Georgian Party. "I was sincerely glad to hear about this step, as Bidzina Ivanishvili has trust and authority in society. I'm sure that his participation in politics will change the balance of power in the country and this change will not benefit Saakashvili," Sozar Subari stated.
The majority of Georgian analysts welcomed Ivanishvili's arrival in politics due to several reasons, however there are those who have already negatively forecasted Ivanishvili's political future. According to the analyst Gia Khukhashvili, Ivanishvili's participation in the upcoming parliamentary elections will revive the Georgian political swamp. Khukhashvili considers Ivanishvili to have great possibilities to turn the Georgian political situation upside down.
Khukhashvili says that there will be a row of intelligentsia, non-governmental sector and politicians at Ivanishvili's door. "In Georgia, as a rule, the rejected becomes an enemy the next day. Ivanishvili will have to fight on two battlefields, though in any case, I wish him success, as a serious challenger emerges in Georgia."
Khukhashvili says that the government is afraid of Ivanishvili's material and media resources. "Ivanishvili is the one who can provide all of these, though Ivanishvil's shortcoming is that his political or public activity has not been seen, but if he has the resources to step into public policy, it will be another pleasant surprise," Khukhashvili says.
According to fellow analyst Zaza Piralishvili, Ivanishvili is a mythologized figure and that is an important factor for Georgia. "People are waiting for someone they can trust, they can believe in, who has done something – all these formulas are significant. The appearance of a new figure with such authority as Bidzina Ivanishvili will revitalise life in our society and a lot of people will be motivated to support him as a person who can do something," he said.
Ivanishvili has taken a risky step which will be less than successful – such is the assessment of analyst Soso Tsintsadze, who explained: "there are several arguments why he might not achieve success: the Georgian people know him as a philanthropist who avoids journalist as a demon to incense… at the same time, he will not have an electorate as the electorate is split between the current political forces."