Saakashvili Opens House of Justice in Kutaisi
By Salome Modebadze
Thursday, October 6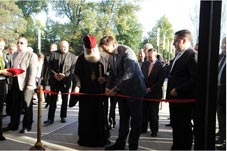 The President of Georgia, Mikheil Saakashvili, opened a House of Justice, the fourth of its kind, in Kutaisi on October 4. Emphasizing the importance of modern technologies, the president welcomed the successful reforms in the justice sector. Stating the government plan for making Kutaisi "the second capital" of Georgia, Saakashvili said officials would make good on all promises given to citizens.
Praising the new parliamentary building and House of Government under construction and to be opened in Kutaisi, the president highlighted the constant contact between the legislative and executive bodies which would both be accountable to the people. According to information released by the president, the new House of Government will be opened on November 23 this year, while the first parliamentary session of the new legislative office would be held on the Day of Independence of Georgia on May 26, 2012.
In summer 2011 MPs passed an amendment moving the parliamentary building form the capital Tbilisi to Kutaisi. This decision caused great controversy both in politics and society. But as the ruling United National Movement members explained, this step was aimed as decentralizing the country and supporting the development of the regions.
President Saakashvili promised lots of innovations in Kutaisi, explaining that their House of Justice would be "the best in the whole world". Stressing that several developed countries have already expressed a desire to learn from Georgia's reforms, the president welcomed the fact that such reforms have become "our know-how". He continued: "just as we have knowledge of how to govern with the House of Justice, Georgian police, mechanisms against corruption, the new tax code and so on, we now have to invent know-how in technology so that the rest of the world can benefit from our experience and successful reforms." Saakashvili said he planned "serious steps" to follow including the renovation of the education system and significant technology innovations in all spheres.
The newly opened House of Justice offers a wide range of services to its users just like three similar offices in Rustavi, Batumi and Mestia. Moreover, the Kutaisi House of Justice is the first to unify the services of various governmental bodies. At the end of the opening ceremony the six promoted freshmen of Kutaisi State University, with the highest scores at the Unified National Exams, received ID cards from the president.