A new college of professional educational was opened
Wednesday, October 19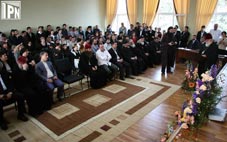 The Catholicos-Patriarch of All Georgia and the spiritual leader of the Georgian Orthodox Church-Ilia II and first Deputy of the Minister of Education and Science of Georgia, Koka Seperteladze, opened a new college of professional education.
The college of professional education was established based on the activities of the charity fund "Lazare". With assistance from donor organizations the fund has been teaching professional vocational programs to homeless children.
With blessings of our spiritual leader, St. Ekvtime Ghvtiskatsi college of professional education was established in 2010 and the fund's activities were integrated into the common educational area. In 2011 in cooperation with the Ministry of Education and Science, the educational institution was granted authorization.
With the beginning of the new academic year the college will continue functioning in the new building. The college is focused on the following professional occupations approved by the Ministry: office manager, masseur, correspondent, assistant nurse (care taker, babysitter, pediatrician), secretary, and guide.