Keto & Kote Musical Premiered in Tbilisi
By Salome Modebadze
Wednesday, October 19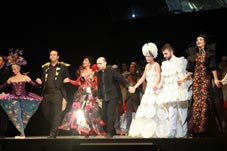 Rustaveli Theatre hosted the modern musical
Keto & Kote
staged by Davit Doiashvili with Nika Memanishvili's musical accompaniment. The remake of the Georgian classical piece of art was first staged in Batumi on August 15, 2011 but Memanishvili had been dreaming of creating an original stage version for the play. "My dream didn't come true in my childhood, but I always hoped that it would sometime be fulfilled," the conductor told
The Messenger
asking everyone to share in this emotion.
Colorful original costumes with geometrical figures, songs with adapted texts from the original story, and famous Georgian singers Nani Bregvadze, Paata Burchuladze, Lado Ataneli, with Artistic Director of Opera and Ballet Theatre Nino Ananiashvili and Sukhishvilebi dance studio attracted the attention of the audience. The scenario is quite different from Viktor Dolidze's opera, youthful artists Sopho Nizharadze and Niko Beridze performed the main roles of Keto and Kote and both come from modern families, often attend parties and travel around the world.
Expressing his gratitude towards the entire working team, Memanishvili stressed that their colossal energy had been appraised by the audience which greeted the modern musical with a total sell-out at the main stage of Rustaveli Theatre on October 9-14. "It may be followed either with criticism or inspiration from among the public but it's a real gift for me to see how happy people are while leaving the stage," Memanishvili said, looking forward to being on stage in the near future.
Sharing his 16-year experience in art, Nika Beridze didn't find it difficult to perform with experienced artists on stage. A participant in the
Geostar
musical competition, the 23-year-old Beridze cannot yet think of anything else except for the two great roles he has already played through
Keto & Kote
and
Geostar
.