Presidential Administration Makes Statement on Ivanishvili
By Gvantsa Gabekhadze
Wednesday, October 19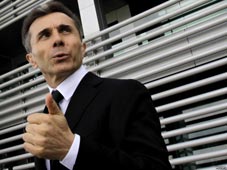 The president's administration made a first brief comment regarding Georgian billionaire, Bidzina Ivanishvili, on October 18. According to the president's spokesperson, Manana Manjgaladze, the stripping of citizenship from Ivanishvili occurred in complete accordance with the law.
"We are not going to make a long comment regarding Bidzina Ivanishvili's arrival in politics, however we want to ensure all that he was left without citizenship based on Georgian legislation," Manjgaladze mentioned and added that Ivanishvili has a right to appeal to the president for citizenship again. According to the deputy head of the Parliamentary Juridical Commission, Chiora Taktakishvili, currently, Ivanishvili has the rights of any foreign citizen, however after 90 days, if he does not have a visa "he might be deported from Georgia."
As it seems, Ivanishvili is going to use all legal means to achieve his aims, including appealing to the president again as Zurab Bigvava, the businessman's advisor on PR issues, admitted to Palitra Radio. According to him, Ivanishvili will use all legal means for getting back Georgian citizenship. Bigvava said Ivanishvili maintains a French passport so far, because if he rejects it, he will be left without any citizenship.
However, Ivanishvili is not waiting for a solution to his citizenship issue and continues his ongoing active preparation for "making the Georgian dream come true," – a slogan constantly promoted by Ivanishvili's son on social networking sites. After making several statements on his future plans and political views, the billionaire has arranged a meeting of his advisor's board, consisting of Georgians from different fields. As one of the members of the board, analyst Irakli Sesiashvili, told
The Messenger
, "no limits are currently set on how many people will participate on the board, as fortunately there are a lot of sensible men in Georgia and Ivanishvili is a person who is always ready to listen to such people." According to the writer Basa Janikashvili, "the board of advisors will not be a mythical body, it will not hold meetings in secret. The public will be informed of each step and the actions of the board in detail."
Legal analyst Zakaria Kutsnashvili has advised Ivanishvili not to appeal to the president for restoration of his citizenship, "as in this case, the president's administration might lengthen the process endlessly, he should appeal to be granted citizenship as in this case the president is obliged to respond in three months period."
The analyst Gia Khukhashvili connects the authorities' reaction regarding citizenship to some other future intention. "Bidzina Ivanishvili told me that the governence should be changed only through elections. However, we should take into account that after Ivanishvili told me this, Saakashvili deprived him of citizenship. The government is deliberately pushing him towards radicalization and the use of unconstitutional steps. I think he will never put political interests above the prosperity of the country though', Khukhashvili said.
According to the civil law analyst Dimitri Gabunia, currently Ivanishvili has the right to live in the country and making political statements cannot be a reason for his deportation, "it is not prohibited by law, however, if he launched political actions such as the formation of a political party and so on, deportation might occur."