Negotiations on Free Trade Agreement to start
By Ernest Petrosyan
Wednesday, November 16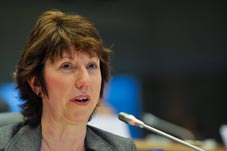 The European Union's High Representative for Foreign Affairs and Security Policy, Catherine Ashton, continues her regional trip to South Caucasus arriving in Georgia from Azerbaijan Tuesday. According to Foreign Ministry information, issues of launching negotiations on Deep and Comprehensive Free Trade Agreement and visa free regime are to be discussed.
"Negotiation on association agreement has transferred into the final stage; we are practically on the finish line. By the end of the year the negotiations on deep and comprehensive free trade agreement between EU and Georgia are also supposed to be started. Yet, in the foreseeable future we --with the European Commission--plan to start negotiation on a visa-free regime between the EU and Georgia.," stated Foreign Minister Grigol Vashadze.
Georgia's eight Eastern European allies have addressed letters of support to the EU commissioners. They urge the EU to step up the process. The document was initiated by the Lithuanian Foreign Ministry and signed by Czech Republic, Poland, Bulgaria, Hungary, Latvia, Estonia, and Romania. The authors insist on launching negotiations on a free trade agreement and further visa facilitation as soon as possible. According to the Lithuanian Foreign Ministry the document and recommendations will be taken into consideration by the EU.
"The support of the Eastern European states is crucially important, because these are the states which see Georgia undergoing the transition they went through themselves. They know well that our destination is the EU," said Aka Minashvili, the Chairman of the Parliamentary Committee on Foreign Affairs.