C.O.A.T.S. – Clothing Others Against The Snow
Wednesday, November 16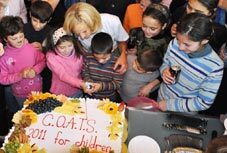 A Community Youth Outreach Project Benefiting Children
COATS Gigantic Grand Finale held Saturday, November 12 at the Radisson Blu Iveria Hotel.
The community outreach project, C.O.A.T.S. "Clothing Others Against the Snow'' hosted the project's grand finale Saturday, November 12, 2011 at the Radisson Blue Iveria Surface Bar area. The mission of COATS is to collect winter wear to distribute to children in need, ages 6-17. Children from four different centers: Tbilisi Children's Crisis Center, Gldani District, Tbilisi and the Child and Environment Centers – Sapovnela in Rustavi, Tsisartkela and Begurebi in Tbilisi attended the big shopping event. 51 student-volunteers participated to make the day a phenomenal experience for approximately 200 children. Surplus clothing is distributed to others in need by the Salvation Army, MAC (McClain Association for Children), and Mrs. Maya Frank-Hennig of the German Embassy via EUMM.
This is the second consecutive year for COATS. The aim of this project is to first help a community of young people who are in need and secondly, to teach our school students the value of giving back through generous donations that will benefit others. By being helpful, generous and caring, our students will develop understanding that it is important to give back to society and will hopefully begin this practice as a life-long value. The lack of family stability and financial security associated with these needy children becomes increasingly significant as winter approaches. They are truly in need of warm clothing.
The schools involved in helping the project:
New School International School of Georgia; Quality Schools International; American Academy; Ecole Fransise du Caucase; Robert Schuman European School.
COATS information flyers and posters were designed by students Nate and John Watson from New School and Sandro O'Neill from American Academy. COATS collection period at the five area schools and U.S. Embassy began November 1 and the last bundle of warm clothes was collected on November 11. On November 12 from 10:00 am to 1:00 pm, student-volunteers assisted children in shopping at COATS Closet located at the Radisson Blu Iveria in Tbilisi. Activities such as face painting along with pizza and beverages, and a giant cake made the event a special occasion for everyone. We would like to say a big thanks to the sponsors of COATS: Radisson Blu Iveria, MGroup, BP Georgia, UGT ,Liberty Bank, Inga Dundua and Ali Karroum, with a special thank-you to the entire U.S. Embassy for its enormous COATS collection organized by Mrs. Holly Holzer Bass. Additionally, thank you to IWA Georgia for conducting a collection day among its members. The success of the event was possible by the dedication of many individuals, including the event steering committee of Deborah Fairlamb, Larissa Gurgenidze, Nicole Jordania, Marina Maisuradze O'Neill, and Sarah Williamson Chirakadze. All the support and generous sponsorships made COATS bigger and better this year.
"The tremendous warmth and genuine care from the greater Tbilisi community has been abundantly evident with the large amount of support and donated children winter clothing, from socks to jackets, everything a child needs for the winter months. Each school plays a key role; the students' efforts and dedication are what make COATS a success. It is a true privilege to work on such a worthy endeavor with individuals from all walks of life; a very humbling experience. True to its name, Tbilisi is the city of warm-hearted people," states Michele Dunn, COATS Founder/Director.
Kathy Kapanadze, a New School student, expresses her own thoughts about COATS and helping others, "COATS is an amazing project. I am very glad that our school is taking part in it. It is very important that we who have opportunity to study in such a great school, will help others who didn't get a chance to have as much as we do. Thousands of kids don't even have a warm sweatshirt to put on in winter and they are freezing. It is unacceptable and we should try to help as much as possible. I hate being cold even if I'm wearing tons of stuff, and I can't even imagine how hard it's for those kids to be freezing cold. I really hope that there are more of these charity projects and that people's hearts get warm and they are gracious enough to give some clothes to people who can't afford it."
Contributing editor Marisha Sepashvili, Grade 11, New School International School of Georgia