Victims of Building Development companies demand redress
By Gvantsa Gabekhadze
Wednesday, November 16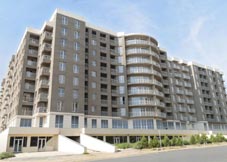 On November 15 Georgian citizens wronged by development company Centre Point Group demanded the formation of a temporary Parliamentary Committee to study their problems.
Thousands of Georgians were victims when the Centre Point Group went bankrupt after the 2008 war. The company was taken over by DEXUS which now promises to fulfill their obligations, and have begun building some of the abandoned projects. However, it seems the issue is not going as promised. Victims of the Centre Point Group have already held several demonstrations demanding that both companies answer to them. Some told The Messenger they have already addressed all related officials and organizations to defend their rights--however, most of these, including the Tbilisi Mayor's office, have paid no attention.
According to them, most of those 6200 persons affected are living abroad and for years they worked hard to save money to buy flats in Tbilisi, but they are unable to return as their properties are not completed. They say even those flats which have been completed by the company are dangerous because low grade materials were used in the building process. They also underlined that the court is partial and most of its decisions were pro-Centre Point Group, "They are cheating us--they have had six years to complete my flat but have done nothing. They are demanding an additional sum to bring the building to an end, which is absolutely unacceptable and unjust," one person stated.
As another of the affected persons, Aleko Dolidze, told The Messenger, DEXUS should have completed the flats but instead is demanding that the victims sign a new agreement saying they have to pay additional sums-- $ 100/m2-- as well as a value added tax (18 % of total sums paid). Legally they have no right to make us sign those illegal documents, however they are frightening people, saying that they will sell their flats unless they sign. Buildings are in different situations. Some haven't been started, while others are partially completed, some need repairs, etc. However DEXUS requires everyone to sign, saying the company has no money to bring the buildings to completion."
MP Tsagareishvili mentioned that the issues regarding these people "are a state crime" and that the Government must demand answers from definite directors of specific companies and protect citizens' interests. He also mentioned that in case the Prosecutor's office doesn't launch investigations, "it would be a sign that companies are making private deals with the authorities."
Comments were also made by the representative of Parliamentary minority Christian–Democrats, Giorgi Akhvlediani . "Definite sums for addressing such kinds of problems should be foreseen in the 2012 state budget. It is clear that the problem cannot be decided in a minute; however the Government isn't doing anything at all. A special committee has been created which should adopt recommendations and present them to Parliament." No meeting of the committee has been held yet, he stated.
The commercial director of DEXUS development , Zaza Baiadze, told
The Messenger
that the need for owners to pay $100 m2 is true , but it concerns only the Saakadze Square buildings, not others. "We don't have enough funds to finish the construction process with only our finances. Even this amount paid by the clients will not be enough and we will have to search for more financing. If those who already paid for flats in the Saakadze development project refuse to sign, we will have to finish the construction at our own expense, sell the flats, then refund the money they had invested."