Youth offenders now get a second chance
By Salome Modebadze
Wednesday, November 16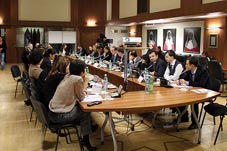 Results of the
Juvenile Diversion and Mediation Program
carried out by various ministries were summarized at the National Library on Tuesday. The program was launched by the Ministry of Justice and the Ministry of Corrections and Legal Assistance of Georgia with support of the European Union on November 15, 2010 and aimed at liberalizing the juvenile justice in Georgia by releasing juveniles from criminal liability. It means that those juveniles who committed minor offenses for the first time, are offered alternative forms of correction without carrying out criminal proceedings and further imprisonment.
The twelve-month program is applied to juveniles who haven't participated in the program before. It is necessary that the juvenile would confess and ask the victim for forgiveness. Moreover the juvenile's family should compensate the damage if the victim claims it. By acknowledging the offence the juvenile takes the civil obligation before the injured party and the society and performs socially oriented work. If he precisely follows the obligations taken after signing the special document he avoids getting a criminal record.
Around 60 juveniles have avoided imprisonment since implementation of the program. Murtaz Zodelava, Prosecutor General welcomed the success of the program. As the Prosecutor General stated, juveniles, who have taken the chance offered by the
Diversion and Mediation Program
have ensured much better futures for themselves than without participating in the program. "All the juveniles have loyally followed the preconditions of the program and as a result these youth, who are a very important part of Georgian society, avoided the criminal path," Zodelava stated. Hoping that none of the juveniles would repeat the styles.
Khatuna Kalmakhelidze, Minister of Corrections and Legal Assistance, explained that this program doesn't consider condemnation, but on the contrary it keeps juvenile offenders away from prisons in the framework of a more appropriate policy of criminal justice introduced by the state. Public Defender Giorgi Tugushi who had been observing the implementation process of the Juvenile Diversion and Mediation Program from the beginning, called the program a "response to world vision" in juvenile justice.
Roland Monasch, the UNICEF Representative to Georgia, spoke of the uniqueness of the program for Georgia, saying the program was achieved through cooperation of the various ministries. Monasch recollected how the juveniles were immediately punished for any crime five years ago, while these youth have a second chance. Promising to continue supporting the program, the UNICEF Representative to Georgia said they would introduce the program to the entire country in the future.
The Juvenile Diversion and Mediation Program acknowledged as a "revolutionary, progressive and liberal legislative innovation" tries to ensure the safe reintegration of the youth offenders back into society. Specially trained prosecutors, mediators and social workers studying the psychological conditions of the young offenders work to prevent juveniles from committing crimes in future.