Ilia II Flies into Moscow to Meet Russian Counterpart
By Salome Modebadze
Monday, November 21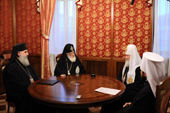 Patriarch of Georgia Ilia II met with Russian Patriarch Kiril in Moscow. Stressing the importance of solving relations between the two neighboring countries, the two patriarchs emphasized the historical cooperation between the Georgian and Russian nations sharing the same Orthodox Christian religion.
Having left for Moscow with religious figures on November 18, Ilia II congratulated the Russian patriarch on his 65th birthday. Ilia II encouraged both governments to take the example of the Georgian and Russian churches which have a fundamental role for the both countries with their long traditions and deep roots. Hoping that the disagreement between the two countries would be overcome Ilia II said the two patriarchs "should do everything to restore peace and welfare, because the continuous conflict between the neighboring states is an open wound which needs to be cured".
Expressing his gratitude towards his Georgian counterpart for coming to Moscow, Kiril expressed his wish that cooperation between the Russian and Georgian Churches would bring very positive results for the two countries which have lived together for hundreds of years. "No obstacles can damage the foundation of relations between the two nations connected with faith and churches," the Russian patriarch said stressing that he, together with the Georgian patriarch would continue praying and trying to restore love between the two countries.
Senior clerics from the Russian church together with Gregory Karasin, Deputy Minister of Foreign Affairs, welcomed the Georgian patriarch at the airport on the day of his arrival in the Russian capital. As Ilia II had said before his departure, he would discuss the relations between the Russian and Georgian churches as well as the issue of Abkhazia and South Ossetia with his Russian counterpart. As representatives of the Russian Patriarchate supposed, the long Orthodox traditions between the two countries would overcome the political animosity between the two states. "On the contrary, the nonexistence of diplomatic cooperation won't prevent the two patriarchs meeting and discussing issues of cooperation," Nikolai Balashov stated.
At the special liturgy at the Cathedral of Christ the Savior in Moscow, the two patriarchs held a joint church service on Saturday and Sunday, which was followed by Kiril's jubilee reception. Representatives of the Polish, Bulgarian, Czech, Slovak and Romanian churches also arrived specially for that occasion. Congratulating the Russian Catholicos on his birthday, Ilia II emphasized his great experience in cooperation between the churches and the states.
The Georgian patriarch will return to the country on November 24 after meeting with the representatives of Georgian Diaspora living in the Russian Federation and holding a service on the day of Saint George on Wednesday.