Parliament Approves of New Open Prison Proposal in Tbilisi
By Gvantsa Gabekhadze
Friday, December 9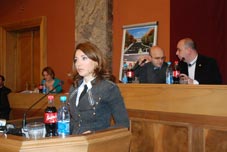 The Minister for Probation and Legal Assistance, Khatuna Kalmakhelidze, pushed forward a new initiative and appealed for some changes to certain laws, on December 7, during her visit to parliament. A new open prison is envisaged in Tbilisi. The initiative was met positively both by the parliamentary majority and minority representatives, however there are some issues, the opposition and NGOs demand to get answers on before the initiative is confirmed.
As Kalmakhelidze claims, the building, which is to be built in the Gldani district of Tbilisi, would hold 100 prisoners and would be "without bars". People inside would be able to move without restriction, they would have unlimited short term appointments during non working days and be involved in educational, vocational and rehabilitative programs. They would also be able to leave the building: "it would not be a place like a typical prison and those people would not be isolated from the society," Kalmakhelidze mentioned.
As for who would be placed in the institution, the minister explained that those people who will be sentenced to 'restriction of freedom' and also those defendants for whom a 'deprivation of freedom' sentence would be changed to 'restriction of freedom' by the decision of local councils (not yet established but envisaged as part of the reform) and with the defendants' agreement.
The parliamentary opposition MP, Dimitri Lortkipanidze had some other questions for Kalmakhelidze regarding incidences of torture in probation departments. He said that he "did not get answers from the Minister." He, in general, positively assessed the new initiative, "however , the issue should also concern serious and very serious crimes and not only petty crimes."
The parliamentary secretary of the Georgian Young Lawyers Association, Tatuli Todua was interested in "whether it is possible or not to appeal the decision made by the court when restriction of freedom is changed to deprivation of freedom, that is when the conditions for a defendant becomes harsher."
Based on the head of the non government organization Public Defender, Manana Kobakhidze, the initiative enables lawyers to argue about the institution where a defendant will be transferred which was impossible earlier, "as there was no institution in Georgia where defendants could be placed which were sentenced to 'restriction of freedom'." She explained that there are three types penalty – deprivation of freedom, restriction of freedom or a fine. "There are articles which foresee for example restriction of freedom for two years, or deprivation of freedom for three years, as there were no institutions where those persons could be sent in cases of restrictions of freedom, the judge just sent them to prison. If such an initiative is confirmed, the judge would be able to use such an opportunity." The parliament accepted the draft to be pushed to a plenary sitting.