Swedish Films Go Down Well at Tbilisi Film Festival
By Salome Modebadze
Monday, December 12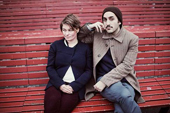 The 12th Tbilisi International Film Festival (TIFF) offered a variety of films from Georgia, Europe and the US to cinemagoers during its 5-day program. Giving the audience an opportunity to get acquainted with modern and classical Swedish cinematography at Amirani cinema the Swedish program From Sweden with Love played one of the most outstanding parts of the festival in cooperation with the Swedish Embassy in Tbilisi with the support of the Swedish Institute in Stockholm.
Nine premieres in Tbilisi, all proving popular abroad, include new films She Monkeys and Sound of Noise as well as earlier works of famous masters awarded with various international prizes. Levan Akin, a special guest of the program which arrived in Georgia with his short film called The Last Thing (De sista sakerna) is among the most interesting film directors in modern Sweden. The film is about the tragedy of the family of an eleven-year-old Hugo whose brother dies at sea. But the family manages to overcome the pain by remaining together strengthened with love towards one another.
Sweden-born Akin's Georgian roots were pleasantly highlighted at his new movie Certain People (Katinkas Kalas). Akin met the audience with "gamarjoba," which in Georgian means "hello." When his family flew to Georgia during communist times Levan even went to camp as a pioneer. Director of several award winning short films and TV-series, Akin has a very special dream to shoot a film about Queen Tamar in Georgia. "We like impossible projects," he told
The Messenger
. Encouraging young Georgian film makers to have the courage to tell the truth through their films Akin emphasized that "telling stories that are near to them is what makes a good film. Sharing his emotions about the Georgian film Street Days (Kuchis Dgeebi) directed by Levan Koguashvili in 2010, Akin spoke of the beauty of Georgia. "Nobody should die to make things important in a film. A film shouldn't be emotionally touching I think it should be intellectual," he said talking about his first feature film which is about to be released to Swedish audiences, pieces of which were shown to Georgian cinemagoers.
Certain People is about multicultural group of people from different backgrounds. Trying to go against the main trend of modern Swedish cinematography Akin chose simplicity in the plot. A small group of friends gathered at Katinka's summer house are celebrating her birthday. The guests, in their thirties, from the upper class, the art world and liberal humanist bohemians are sitting on the floor smoking amongst books, antiques and modern art. But when Katinka's brother brings a blond game show hostess the party sets off on a high note.
Amazed by Georgia's beauty, Erika Stark producer of Akin's films spoke of the balance between humor and tragedy in cinematography. "It's easier to tell people something with joy," she explained. Stressing that the roots of behavior or attitude are more important than the effects the Swedish guests continue exploring new interesting areas without focusing on a specific topic for new films. "We are very glad that the Swedish program was so successful in Georgia," Tamar Datuashvili Press, Information and Cultural Affairs Officer of the Embassy of Sweden said promising to bring Akin's Certain People to the TIFF next year.