2012 Budget Passed
By Gvantsa Gabekhadze
Monday, December 12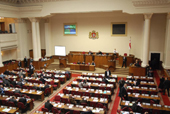 On December 9 the 2012 state budget was approved. Rumours had had it that it might not be adopted and pre term elections might be held for this reason. Though it has now been approved, opposition and majority MPs could not manage to have common positive views regarding the issue. The budget, which is significantly increased compared to former years, is "transparent and based on local and international demands" the authorities claim when the opposition "transparently disliked" it and denied support to it. However, opposition criticism was not enough and with 86 votes for and only three against, the state budget was confirmed.
Next year's state budget sets revenues at GEL 6.839 billion, up by GEL 368 million from this year and expenditures at GEL 6.528 billion, up by GEL 500 million from 2011.
Forecasted tax revenues are set at GEL 6.3 billion next year, up from planned GEL 5.65 million this year. According to the draft, the government expects GEL 239 million in foreign grants next year.
The budget forecasts 2012 economic growth at 5%, setting expected nominal GDP to amount to GEL 26.43 billion. Forecasted annual inflation is set at 6%.
One of the major amendments in the final version of the draft was related to the new pension package plan, involving increase of minimal monthly pension for 67 years old and above from the current GEL 100 to GEL 125 starting from September, 2012 and funding GEL 15 health insurance policies for all the pensioners from next September.
Thus, the authorities claim that all the main recommendations and remarks regarding the budget have been taken into account and that the opposition should not have any reason " to be in a negative mood".
The budget "which is oriented towards defeating social problems" , Vice Speaker , Mikheil Machavariani said and mentioned that Georgia is a small state and has no means for having a 'closed economy.' He underlined that Georgia should respond to international challenges meaning the euro zone and common economic crises and the 2012 state budget reflects the Georgian government's responsibility towards the challenge."
According to fellow majority member, Goka Gabashvili, the Georgian economy would grow by GEL 3 billion for next year, "the greatest amount would be spent on social issues, the authorities listen to people and take their wishes and demands into consideration."
However, the opposition criticized the authorities on those points which were mainly underlined as priorities by the government. "Non transparent and ignorant of Georgian society's social needs and necessities ," were the words frequently used by the opposition regarding the 2012 state budget.
The more the budget is increased, the more inadequately sums are shared – a representative of the Christian Democrats, Giorgi Akhvlediani, said and mentioned that the authorities "could not find sums for veterans, pensioners and those affected by the housing problems."
Non parliamentary Our Georgia- Free Democrats representative to the parliament , Gia Tsagareishvili, compared the 2012 state budget to that one of 2001 and mentioned the very non-transparent budget of that time, referring to the Ministry of Security that consists of 12 sections , when the financing of each structure in the 2012 state budget is written into only 4 sections, thus Tsagareishvili assessed the budget " as hidden from the society" which would be " perfectly used during elections by the ruling power for its private interests."