Ambassadors Scrutinize New Electoral Code
By Salome Modebadze
Friday, December 23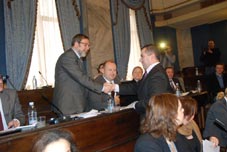 Ambassadors and international organizations familiarized themselves with the changes to the Georgian Electoral Code on Thursday. US Ambassador to Georgia John Bass and the Head of EU Delegation Philip Dimitrov were among the diplomats who attended the meeting. Although they haven't made public comments around the issue, Parliamentary Chairman Davit Bakradze promised to take everyone's suggestions and initiatives into consideration. Bakradze said the Georgian lawmakers could hear interesting opinions from the Ambassadors on how the electoral code is regulated in European countries and promised that their suggestions and initiatives would also be reflected in the draft document.
As Bakradze explained, the meeting aimed at ensuring that the draft law, which is about to be adopted, is close to European democratic standards and the importance of exchanging opinions and suggestions for ensuring the transparency of the process. Confident that the new electoral code would ensure freedom and fairness of the electoral environment in the country, the parliamentary chairman stressed that the country has considered the majority of recommendations from the Venice Commission which are open to the public. Thus the diplomatic corps and international organizations could compare the relevance of the Georgian electoral code with international norms.
Welcoming the fact that the Georgian bill was approved by the Venice Commission and other international bodies, Bakradze said the new code "should not oppress someone but make Georgian law relevant to international standards." Stressing that the law hasn't been adopted yet, Bakradze welcomed further discussions and recommendations from the interested sides. Although the ruling United National Movement (UNM) has met political parties, opposition and NGOs, the UNM is still ready for further consultations. "We will listen to all interested sides and fully consider their recommendations," Bakradze said stressing the necessity for introducing modern democratic elections to Georgian legislation based on European norms.
Pavle Kublashvili the chairman of the Legal Issues Committee from the UNM said the diplomats evaluated the Georgian electoral code according to European standards. Expressing readiness to continue discussions Kublashvili spoke of significance of the consensus achieved on the number of MPs with the opposition. It was a couple of days ago when the government and opposition managed to agree on keeping the number of MPs 150 instead of increasing it to 190. According to the new agreement the number of majoritarian MPs will go down from the current 75 to 73 and the number of MPs elected through the party-list system will increase from the current 75 to 77, while parties overcoming the 5% threshold could have an opportunity to create a parliamentary faction. Most parties are satisfied with the achievement, but others claim it serves "narrow interests."