MFA summarises 2011 in terms of international relations
By Ernest Petrosyan
Tuesday, December 27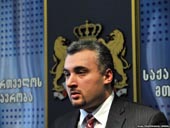 "If Lukashevich can find the terms "customs terminal" or "export declaration" in the WTO agreement, we ask him to point them out," said Georgia's Deputy Foreign Minister Sergi Kapanadze at the traditional Monday briefing in response to Russian Foreign Ministry Spokesman Alexander Lukashevich's statement.
According to Kapanadze Russian authorities are concerned about the signed agreement. "The addressees of Lukashevich's statement are representatives of the puppet regimes in Tskhinvali and Sukhumi, as they were not involved in the negotiation process," said Kapanadze. Kapanadze said that by making such statements Russia wants to assure these people that everything is all right with the agreement and as though Georgia was forced to bend its boundaries.
He says that according to the agreement with Russia on WTO integration, international monitoring has been imposed on all freight through trade corridors, including the Tskhinvali region and Abkhazian territories.
"We are going to fulfil the agreement and we hope that the Russian Federation will also fulfil all its commitments to the agreement," said Sergi Kapanadze.
Official representative of Russian MFA Aleksandr Lukashevich said that the Georgian party made commitments like Moscow by signing an agreement on WTO accession in accordance with the established "new realities" in the Caucasus.
Yet Kapanadze said that a monitoring company has not yet been selected for the Roki and Larsi customs-checkpoints. According to Kapanadze the Swiss party's consultations with Moscow are not yet finished. "That means that the final decision must be made by Switzerland. They will select a company not just according to our and Russia's positions or terms, but according to various financial viewpoints, considering different companies' experience and international reputations," Sergi Kapanadze said.
He also said that the company that is going to be hired and given the mandate to monitor by Switzerland will be known in the coming weeks.
An independent audit company will monitor Zugdidi-Psou, Roki-Gori and Larsi customs checkpoints within the framework of the agreement on Russia's accession to WTO.
During the briefing the Deputy Foreign Minister also summarized the diplomatic year. According to Kapanadze Georgia established diplomatic ties with 22 countries in 2011.
"Georgian diplomacy is multipolar and multivectoral and it is very important to search for partners throughout the world and deepen relationships with them," said Kapanadze.
Kapanadze said that 2011 was successful in terms of multilateral relations, and the opening of several embassies.
According to Kapanadze's assessment the biggest success of Georgian diplomacy in 2011 was the agreement achieved by the WTO and NATO council visit to Georgia. Among the prominent achievements he also emphasized the UN resolution on refugees adopted by the General Assembly.
Concluding the briefing Kapanadze said that the upcoming year will likely be challenging and that Georgia will be guided by the national security concept adopted by the parliament a few days ago.