NGOs concerned about new changes to election code
By Gvantsa Gabekhadze
Tuesday, December 27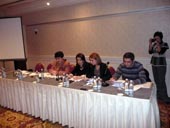 An urgent meeting was held by Georgian NGOs on December 26 stating that several changes in the election code are "unacceptable, obscure and dangerous" and create serious threats to freedom of expression in the country.
The NGOs mainly touched upon two points of the draft. Based on the changes financial restrictions and obligations are being made on legal entities related to parties, including non-commercial entities. The restrictions are being put on legal entities as these entities can influence voters through representatives or by some other figures to support or not support a political subject.
"As a result a lot of organizations might be punished without any serious grounds," Head of the Young Lawyer's Association, Tamar Chugoshvili, told The Messenger. Representative of Just Elections Nino Lomjaria mentioned that changes in the criminal code are "not sensible and too strict" in her opinion. According to the changes not just a person who gives a bribe, but also a voter who might receive any kind of bribe, would be eligible for punishment. In this case voters might be punished with three years imprisonment, which is absurd. "At the same time if a representative of a legal entity, or some non-state institution does campaigning for a political party or figure, restrictions spread to his/her organization, his/her relatives and this circle is too large..."
She also mentioned that no sanctions for political agitation and so on have been set for state employees, "which have more and better levers for this than for example ordinary small organizations."
According to a representative of International Transparency Georgia "NGOs are not against restrictions, however restrictions should mainly touch upon financial sides and expenses, those changes which would be carried out impose great irrelevance to international standards and create serious problems regarding right of expression."
As Chugoshvili told us, they were participating in the process of working on the draft and delivered their recommendations to the lawmakers. "However despite taking into consideration their recommendations to present a more clear and acceptable version, they have presented a worse and more complicated version, which is even difficult for us to understand." She also mentioned that several points must be removed from the draft as they would be extremely negative if the draft were to be adopted as it is. "I hope that the majority will foresee this and will not let such obscure and unacceptable changes go ahead. If it does end up going ahead though we will have to work on concrete issues then, not to allow any misuse of the law."
This attitude is not shared by the majority of representatives though, who claim that the draft does not restrict right of freedom at all.
The Government members who frequently claim that all changes in the election code have been carried out through international recommendations, also state that blames concerning leaving the opposition without financial resources are groundless. The opposition currently have enough means to undertake an expensive pre-election campaign," MP Goka Gabashvili responded and went on to explain the essence of those changes in the new election code. "Money must not sway political ideas," he said and mentioned that speculations that these changes are somehow connected to billionaire Ivanishvili's arrival on the political scene are unacceptable for him. "These are only speculations and nothing more. We are not going to explain why we have decided to adopt changes that are already accepted internationally at exactly this moment in time."
The greatest part of the Georgian opposition see the changes in the election code as a negative and not just the financial part; according to representative of Our Georgia - Free Democrats Irakli Chikovani, "The new election code does not differ from the old one which has always been the subject of criticism from the Venice Commission and international analysts."
Unlike Georgian NGOs which are still hopeful that something might be changed in the formulation, analyst Giorgi Khutsishvili does not share such hopes. "They knew what they were doing when they wrote it, thus I am not expecting any serious changes to be made to the draft," Khutsishvili told The Messenger, and mentioned that such restrictions were imposed due to Georgian billionaire Bidzina Ivanishvili's coming to the political arena. "The authorities are frightened by the financial resources of the businessman and all such draconian changes are being made based on fear."