US focus on training and educating Georgia's armed forces
By Ernest Petrosyan
Wednesday, January 11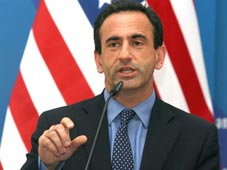 US-Georgian military cooperation remains focused on the education, training and preparing of Georgian troops for Afghan ISAF mission deployment, said the US Assistant Secretary of State for European and Eurasian Affairs, Philip Gordon at a news conference in Washington on January 9.
"We have a security relationship with Georgia that has significantly focused on education and training, and on Georgia's hugely important commitment to Afghanistan. Georgia, on a per capita basis, is one of the most, either first or second, biggest contributors to Afghanistan. They have, even in recent days, taken casualties. And it underscores the risks that they are taking on our common behalf, protecting common security, and we will continue to work with Georgia on that basis.
Asked whether the administration is going to implement a provision in the US National Defense Authorization Act for Fiscal Year 2012 which calls on President Obama for the "normalization" of military cooperation with Georgia, envisaging the sale of defensive arms Gordon responded: "I do not think it changes our approach so far.
Where specific weapons sales are concerned, we treat them like we do with other countries. They are taken on a case-by-case basis, taking a lot of factors into account. But we will continue that security relationship with Georgia in all of those ways," Gordon announced.
President Barak Obama, in his signing statement on December 31, listed the provision of the defense authorization act dealing with Georgia among those sections of the Act which will be treated as "non-binding" should any application of the provision conflict with his constitutional authorities.
The US President adduced two reasons behind his decision; his statement said that these provisions of the Act could interfere with the President's constitutional foreign affairs powers and also said that these provisions "could be read to require the disclosure of sensitive diplomatic communications and national security secrets.
The recent remarks by Gordon are in line with his previous and other US officials' statements regarding this issue.
Observed from US officials' public remarks over recent years, Washington is not in a hurry to sell lethal weapons to Georgia, preferring to educate and train its armed forces. The January 9 remarks by U.S. Assistant Secretary of State Philip H. Gordon, are in line with his and other U.S. officials' statements made previously on the issue.
Yet the U.S. Assistant Secretary of State stressed the importance of Georgia's contribution to the Afghan operation, saying that "Georgia, on a per capita basis, is one of the most, either first or second, biggest contributors to Afghanistan mission".
Apparently, it is more convenient to prepare Georgian troops and equip them with good weapons on Afghan territory rather than in Georgia.
As for the anti-missile defense programme in Europe Gordon responded to ITAR TASS journalists that the U.S. and NATO intend to continue dialogue with Russia over the issue.
"We're going to keep talking about it. Our view on the subject I think is quite clear. We, the United States and our NATO allies, are going to move forward with the European Phased Adaptive Approach because there's a growing threat from the proliferation of ballistic missiles, potentially combined with nuclear weapons proliferation," Gordon said.
He reiterated that the system is not directed against Russia and the "offer to work together remains on the table".