Christmas party organised for children of fallen Georgian heroes
Wednesday, January 11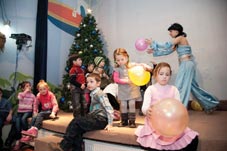 Last Thursday a Christmas party was organized for the children of military personnel killed in the war with Russia in 2008.
About 80 children visited the centre "Aladdin" in Tbilisi and were given Christmas presents there. The children enjoyed meeting and being entertained by famous American characters Spider-Man, Mickey and Minnie Mouse, Princess Jasmine, magical fairies, and of course Santa Claus.
"This is the third year already that we have organized activities for the children of our soldiers who died during the Russian war in 2008. Such meetings and celebrations are very important for them. The children need to feel loved and supported. Over the years we and the children have become friends, when they see each other again it unites them. Perhaps our attention will help to at least partly make up for all the love and care that these children lost when their parents died," said President of the American Friendship Club Ilia Zukakishvili. He thanked the event's permanent sponsor - company Rico Group, and City Hall Tbilisi for all their support.