New election code amendments criticized
Friday, January 27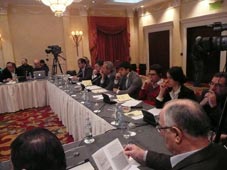 A conference dedicated to the analysis of new amendments to the Georgian legal code, sponsored by the Georgian Development Research Institute, was held at Marriott Tbilisi yesterday. At the centre of the conference was a report presented by specialists on constitutional law, professors Levan Izoria, Irakli Kobakhidze, and Paata Turava, that analyzed changes to the legal rights of citizens to form and fund political parties.
In attendance were professor Dieter Umbach from the University of Potsdam, Lela Taliuri of the Georgian Young Lawyers Association, representatives from the international diplomatic corps, and a variety of civil rights analysts and lawyers.
In his opening remarks, co-author of the 1995 constitution, professor Vakhtang Khmaladze, highlighted the many discrepancies, vague statements, and potential misinterpretations in the new amendments. He was supported by remarks made by professor Izoria, who argued that there is a contradiction between the legal norms of the current constitution and the proposed regulatory changes.
Participants identified possible challenges to financing political parties, as well fundamental rights such as assembly and expression, as consequences of the new laws. It was also revealed that Georgian legislators had ignored the recommendations of the Venice Commission, and made changes to the elections code after it was submitted to that body.
The organizers of the conference expressed regret that no government representative was able to attend, even after invitations were sent to the offices of the Chair of Parliament, the Chairman of the parliamentary legal issues committee, and the Ombudsman, among others.