Chamber of Control accuses Georgian Dream of breaking election law
By Gvantsa Gabekhadze
Friday, January 27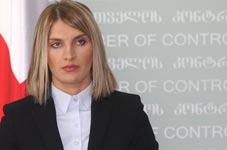 The Chamber of Control has released another statement regarding the public movement established by Georgian billionaire Bidzina Ivanishvili, condemning the organization for "hypocritical deals."
Based on recent changes to electoral law, the Chamber of Control now has responsibility for monitoring the financial activities of political parties and political organizations. Ivanishvili's nascent political movement is now subject to investigation by the Chamber.
Head of the Chamber of Control's monitoring department, Natia Mogeladze, claims to have uncovered a potential illegal operation in her examination of Ivanishvili's political dealings. According to an agreement signed between LTD Elita Burji and the Georgian Dream movement, the group transferred two million GEL to the LTD's account for services rendered. On January 17, 2012 Elita Burji sent 100 000 GEL back to Georgian Dream's account; three days later another million GEL was returned. Molgeladze believes "...that it is a hypocritical deal, as the owner of both organizations is Bidzina Ivanishvili, who is a client, buyer, and executor altogether."
The law on political unions declares invalid all agreements signed which countervene election law, and all property delivered or through such agreements become state property. The Chamber of Control has therefore demanded that Georgian Dream return the all monies to Elita Burji within three days, otherwise the sum would be confiscated. Furthermore, a legal (corporate) entity is forbidden from contributing money to political organizations.
Representatives from Georgian Dream have responded by saying that the Chamber of Control has exceeded its rights and has violated the law. "The Chamber of Control is trying to control private legal entities and other types of actors it has no right to monitor," lawyer for Georgian Dream, Zakaria Kutsnashvili, said.
One of Ivanishvili's political allies, Zurab Abashidze of Our Georgia –Free Democrats, affirmed that all activity carried out at present or in the future, is conducted legally, and that that Chamber's allegations are groundless.
Constitutional analyst, Vakhtang Khmaladze, notes that laws related to political parties create serious threats to the functioning of the state, and are against fundamental human rights such as assembly and expression. Criticizing the power newly granted to the Chamber, he says, "The head of the monitoring service of the Chamber of Control has a right not only to [scrutinize] who is directly or indirectly related to a political or physical entity... [but] at the same time, she can set sanctions, including such strict ones as sequestering the property of the entity, without a court's involvement."
International NGO, Transparency International Georgia, asserts that changes in the law on political unions "Encourages parties to lead their political actions and attract finances by ignoring the legislation." Programs Director, Nino Khatiskatsi, believes that the party in power and those in opposition do not play on a level field. "The authorities carry out definite actions, like solving road problems... [with] administrative resources when such action is taken as a bribe."