Putin: Russia will not reverse course on Abkhazia and S. Ossetia
By Ernest Petrosyan
Tuesday, March 6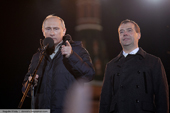 The winner of Russia's presidential election, Vladimir Putin, has said that "Russia will not reverse its policy towards Abkhazia and South Ossetia".
Speaking after early results of the election were announced, Putin confirmed that there will be no change to his policy, saying, "We will not return back".
Georgian Deputy Foreign Minister Nino Kalandadze immediately responded to Putin's statement. "Pressure from the international community will eventually yield a result, regardless of whether Vladimir Putin wants it or not," she said.
Kalandadze also condemned the inclusion of disputed Georgian territory in the election. She maintained that the election was conducted without the consent of the Georgian government.
According to poll results from the breakaway regions, over 90% of Abkhaz and South Ossetian residents voted for Putin. A local news agency in Tskhinvali reported that 15,839 voters turned out at polling stations on Sunday, with 92.7% of those voting for Putin. Apsinipress, an Abkhaz news agency, reported that 74,135 voters cast their ballot in Abkhazia, 90.9% of which voted for Putin.
The vast majority of the regions' residents hold Russian passports, and making them eligible to vote in Russian elections. Polling stations were also opened for the thousands of Russian troops stationed in the breakaway regions.
Kalandadze also noted that the Abhaz President Alexander Ankvab voted for Vladimir Putin as a Russian citizen, causing her to conclude that he directly represents the "occupation" forces, not the Abkhaz people.
Commenting on Putin's statement, Speaker of Parliament Davit Bakradze said that Georgia should continue its Russian policy. "We have much experience working with Mr. Putin, thus such 'positive' events should be least expected from him. His official return as President means that we should continue our business [as usual]. We should enhance NATO and EU integration. We should not carry out Russia's political interests in Georgia. We should develop Georgia's economy, and do everything to make Georgia [above] Russia, with regard to reforms, democracy, and development," he maintained.
Leader of the Christian Democrats, Giorgi Targamadze, assumes that in the long run Russia will have to deal with the "civilized" part of the world, which means democratization for its political system. "However, Putin's presidency blocks such perspectives. Putin has become a hostage of its own decisions," he said.