Merabishvili responds to suspicious death in Kashuri
By Gvantsa Gabekhadze
Tuesday, March 6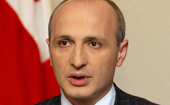 The death of Kashuri resident Solomon Kimeridze at a local police station has raised serious questions about the treatment of suspects in police custody. In the face of criticism from the opposition, Minister of Internal Affairs Vano Merabishvili finally responded to the February 27 incident yesterday.
Merabishvili stated that in order to avoid similar accidents in the future, new police station rules will be enforced. He also emphasized that the police defend all Georgians, and that citizens' security must be especially protected in police offices.
"As per our preliminary report, an accident has taken place. However, it still is an [unacceptable] fact. That's why I decided to introduce new rules. We will make movement and security procedures of any visitor in police buildings more transparent. In the near future we will issue a relevant decree, and a major part of the decree will be that a head of a department will be personally responsible for the fulfillment of new norms. He will be responsible for the prevention of accidents and for carrying out of monitoring," the Minister affirmed.
Opposition figures have called Kimeridze's case one of police brutality, and cast doubt upon the official story that the suspect accidentally fell to his death. Leader of Georgian Dream, Bidzina Ivanishvili, claims that an "independent expert" examined the body and disputes this version of events. "Even without a report from an independent expert, the situation is very simple: Kimeridze is one more victim of Saakashvili's violent ideology," Ivanishvili asserted.
He also noted that no one from the police station has been detained concerning the issue. In response, he called on the police to refrain from fulfilling "illegal" orders from the officials. Otherwise, he promised that if he is elected, they will be punished for such activity.
Former Public Defender and opposition representative Sozar Subari stated that Kimeridze had openly expressed criticism of the current administration, and the real reason he was called to the station for questioning was in order to enact "pressure" on him.
Giorgi Tughushi, the current Public Defender, has already released a statement appealing for a transparent investigation of the incident, one that will provide the public with detailed information.
According to a statement released by the Ministry of Internal Affairs, Kimeridze was taken to a police station for questioning in connection with a robbery. Kimeridze had a previous robbery conviction, and was a suspect in the theft of a kettle from a fellow village resident. While being transported downstairs from the third floor to the second floor of the police station, the accused fell over the handrail into the foyer of the police station's first floor; as a result he sustained multiple serious injuries and later died in hospital.