GDRI and Post-Alion launch joint media project
By Lera Khubunaia
Tuesday, March 6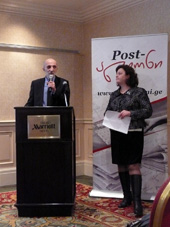 The Georgian Development Research Institute (GDRI) and Post-Alioni kicked off a joint project at the Tbilisi Mariott on Monday, presenting a media-awareness initiative to representatives from international organizations, the diplomatic corps, non-governmental organizations, and the media.
The project is called "Support for Media Literacy in Georgia". According to its organizers, the goal of the program is to provide much-needed education and news information throughout the country, through the popularization of newspapers and electronic media.
"In most cases, people from the villages get inaccurate information; with this project they will be able to get all the needed information, updates and news," said Gia Khukhashvili, a representative of the GDRI.
The project's leader is Ia Mamaladze, head of Post-Alioni.
"The villages will be provided with media centers where people will be able to receive news updates," Mamaladze said. "This will be through newspapers, internet, or television".
At the media centres, people will be able to watch those channels that are not accessible at their homes. They will also be able to access the internet. The first of these centres will open in Guria.
At this point, the project is entirely sponsored by the Georgian Development Research Institute. However, Khukhushvili hopes that soon other NGOs will become involved in the project.