Missing Georgian girl Mariam Makhniashvili has been found dead in Toronto, Canada after more than two years of searching.
(more)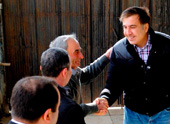 On March 9, President Mikheil Saakashvili visited a family of eight in the village of Berbuki to discuss the needs of rural Georgians.
(more)
"Fate of four Georgian sailors in Sokhumi remains unclear "
(more)