Saakashvili visits Telavi to announced regional renewal project
By Lera Khubunaia
Tuesday, March 13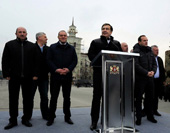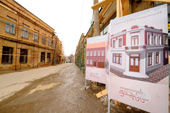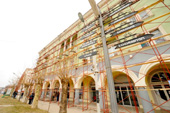 President Mikheil Saakashvili visited Telavi yesterday, where he spoke about the city's renewal and about Russia's "war" on Georgian democracy.
Saakashvili spoke at a Telavi development project conference, where he referred to President-elect Vladimir Putin as enacting a new war against Georgia, targeting the country's upcoming parliamentary elections.
Russia did not win their war against Georgia he said, referring to the August 2008 conflict, and they will not win the "democratic" war.
"Democracy is always won by the people, and the Georgian people will win this war for sure. Our enemy always knew where to bring the hit," he said, referring to the Russian wine embargo that decimated the Kakheti wine industry. "Despite this," he continued, "they could not imagine in their wildest dreams that Kakheti could ever stand on its feet; this is the backbone of our government".
"They know that they cannot win with Georgia; and our final victory will be to get a release from their armies. And for Putin, who set a date four days ago, we will meet with him in autumn, with renewed Kakheti streets," Saakashvili stated, referring to his government's regional revitalization project.
The President spoke about upcoming projects across Kakheti, including a tunnel that will be built in Gombori, in order to shorten the drive time between Tbilisi and Telavi. Construction of the tunnel will commence in 2015 and is scheduled to last for two years.
"This will not take too long, and this new tunnel will be an easy and fast way to get to Telavi from Tbilisi," Saakashvili affirmed. "It will be straight as an arrow and people will be able to get to Telavi in 40 minutes, which is shorter than [it takes] to get to Gori".
As for Telavi's development plans, Saakashvili noted that the city has begun to reconstruct approximately 150 houses and 50 public buildings, including music and art schools. The front facade of Telavi Drama Theatre will be updated, and the Gubernia building will be replaced by a Winter Palace-style structure.
"We will renew nine streets in Telavi, two central and three small squares. Six squares and the central park of Nadikvari will be renovated," the President announced. "There will be a total update of the communications system... and people will have access to the internet. The rehabilitation process will end by autumn, after which the city will be totally changed," he remarked.
During the reconstruction process, approximately 3000 people from a variety of professions will be employed.
In his conclusion, Saakashvili thanked all those who came on the conference and wished them a warm spring and a good harvest in a new, reconstructed Kakheti.