Ministry of Foreign Affairs condemns Abkhaz elections; announces German visit
By Salome Modebadze
Tuesday, March 13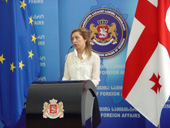 The Ministry of Foreign Affairs has condemned this weekend's parliamentary elections in the breakaway republic of Abkhazia.
Calling the elections a violation of international legal principles, the Ministry said that the region's government has tried to "unsuccessfully hide" ethnic cleansing. The department claims that Russia and the breakaway regimes have been intentionally changing the demographic situation in Abkhazia and South Ossetia for the past 20 years.
The Ministry appealed to the international community to act on what it called "the farce" staged by Russian officials in Abkhazia, and to force Russia to commit to its obligations under the August 2008 ceasefire agreement.
Stressing that refugees from the breakaway regions have been left homeless, the Ministry worried that these people have been deprived the right of return. "The rights of the few people who still remain in the region are constantly violated by the occupation regime," Deputy Minister Nino Kalandadze said, calling attention to the fact that international observers cannot enter the regions to study the conditions there.
She cited a report on Georgia's disputed territories, published by the U.S. Department of State, which emphasizes the need for international observers. Encouraging every actor in the Geneva talks to act constructively to eradicate the "black holes" from the breakaway regions, Kalandadze said that it is not merely Georgia's problem, but a regional one.
The Deputy Minister also announced that the German Minister for Foreign Affairs, Gido Vestervelle, will visit Georgia on March 15, during his Caucasian trip.
Kalandadze noted that Vestervelle would hold meetings with President Mikheil Saakashvili and his Georgian counterpart, Minister Grigol Vashadze.
Speaking of the 20 years of diplomatic cooperation between Georgia and Germany, Kalandadze emphasized the special relations the two countries have developed during these years. "It (Germany) was the first state to acknowledge Georgia's independence," she said.
The Deputy Minister stressed the great challenges Georgia faces on the international level, saying that her Ministry will "introduce Germany to our vision, hoping to have their support".
Kalandadze also announced that from March 12-14, EU experts will visit Georgia to discuss implementation of a visa-liberalization and readmission agreement.