US politicians express interest in Georgian elections
By Gvantsa Gabekhadze
Friday, March 23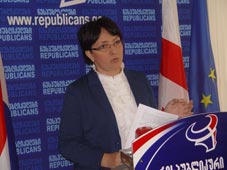 Georgia was a topic of discussion at a United States Foreign Policy Committee sitting, where future Ambassador to Georgia Richard Norland was interviewed.
Senator Ben Cardin (D-MD) expressed interest in the state of Georgian democracy while addressing Norland, and asked what the US can do to help support free and democratic elections.
At the sitting, Cardin called Georgia "strategically important", and noted that US President Barack Obama spoke with Saakashvili about fair elections during their White House meeting earlier this year. Cardin also observed that there have been reports of civil rights violations, especially related to the upcoming elections.
Norland responded that despite progress in Georgia, there have been some disturbing incidents of late, citing issues related to the Chamber of Control and the Law on Political Unions of Citizens. "Our mission [in Georgia] is raising these concerns publicly and privately with the Georgian government and, if confirmed [as ambassador], it will be my role to continue to monitor very carefully Georgia's observance of the principles that we hold dear," he remarked.
Republican Party representative and member of the Georgian Dream coalition, Tina Khidasjeli, commented on this exchange, reiterating that the US supports democratic development of the Georgian state, and not specific political figures. She claimed, however, that Saakashvili is ready to refuse strategic partners if it will help him preserve power, while Georgian Dream is trying to preserve and develop the country's allies.
Georgian Government authorities explained that US officials have received "wrong and tendentious information". Head of the Parliamentary Legal Committee Pavle Kublashvili stated the suppliers of this information include leader of Our Georgia-Free Democrats, Irakli Alasania, and the Republican Party, both members of Georgian Dream. "They are trying to blame others for their setbacks [but] the main reason for their failure is that they are not supported by Georgians – not a [poor] political or electoral environment".
Political analyst Soso Tsiskasrishvili told
The Messenger
that by making these statements, the US reveals that it is not going to fool itself into thinking that the Georgian government is operating democratically. He noted that such statements will become more frequent in the future, and followed by personal meetings with US representatives, in order to persuade the Georgian leadership that [undemocratic] actions will not do them any good. "The lies of the Georgian authorities are no more believed in the US [than in Georgia]," he remarked.
Tsiskasrishvili also noted that the number one goal of the current government is to preserve power, and in order to achieve this they are willing to carry out actions that could harm the country. As for the opposition, he believes that it is acting appropriately, as he says they make accusations to the international community based on evidence, and not emotions.