Tbilisi celebrates World Down Syndrome Day
By Etuna Tsotniashvili
Friday, March 23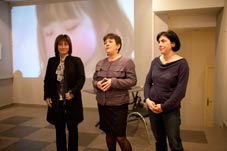 On March 21, Tbilisi hosted an information campaign to observe World Down Syndrome Day 2012. The day's activities were supported by the United Nations Development Programme (UNDP) in cooperation with Open Society-Georgia Foundation, educational institutions and non-governmental organizations.
At noon, a youth rally at Turtle Lake brought together more than 200 students of Tbilisi State University, Ilia University, and the American Academy in Tbilisi. University professors, school principals, representatives of international organizations, and civil society members attended the rally.
"We get together to advocate for the rights of people with Down syndrome and to help ensure that they play an active role in our lives and communities," said Jamie McGoldrick, Resident Coordinator of the United Nations in Georgia.
On the same day, Open Gallery at Open Society-Georgia Foundation hosted an exhibition and charity sale "Faces and Creativity". Photos from well-known Georgian photographer Levan Kherkheulidze told stories of people with Down syndrome actively engaged in all areas of life. The exhibition also featured crafts presented by the Therapy Centre.
Natia Natsvlishvili of UNDP Georgia, told
The Messenger
that the UN is observing World Down Syndrome Day to support and protect human rights of people with Down syndrome.
"The aim of the Day is to achieve dignity, equal rights and a better life for people with Down syndrome everywhere. UNDP is happy to support a campaign in Georgia. We are especially pleased to see the involvement and interest of young people," Natsvlishvili said.
She noted the lack of information about the syndrome in Georgia and added that this is a common issue worldwide. "World Down Syndrome Day helps people get more information and understanding. On average, one out of every 800 babies is born with Down syndrome. It is truly important to give them equal chances to develop and live a full life," she said.