S. Ossetian presidential election to move to second round
By Ernest Petrosyan
Tuesday, March 27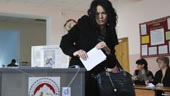 Former local KGB chief Leonid Tibilov garnered the most votes in South Ossetia's repeat presidential elections this weekend; however, he failed to win enough to avoid a runoff.
As the South Ossetian Central Election Commission (CEC) announced on Monday, as a result of a 70% voter turnout, Tibilov won the first round with 42% of the vote. He was trailed by David Sanakoev, special envoy on human rights issues, with 25%. In the second round, which the CEC has scheduled for April 8, the two will face off.
The other candidates, Dmitry Medoev and Stanislav Kochiev, collected 23% and 5.6% respectively, and have been eliminated from the race.
Medoev, the breakaway region's Ambassador to Moscow, was considered a favourite, but according to local news agency, RES, has admitted defeat.
There were no optimistic predictions about the Kochiev, the Communist candidate.
Tibilov was previously involved in the work of the Joint Control Commission, a now-defunct negotiating body between South Ossetia and Georgia. He also served as chair of the board of directors of a local bank in Tskhinvali from 2007-2009. His most recent post was as a consultant to the South Ossetian President's special envoy for post-conflict issues.
Analyst Paata Zakareishvili believes that Tibilov will likely win the elections since the Kremlin tends to support former KGB employees, as "KGB agents are never ex". He also added that Tibilov is a "reliable" candidate who will be expected to cooperate with the Russian Special Forces.
Georgian Deputy Foreign Minister Nino Kalandadze denounced the elections. "All similar events in the occupied regions are aimed at legalizing the ethnic cleansing of hundreds of thousands [of Georgians]; likewise, to legitimize the [current] demographic state [created by force]". She noted, however, that the international community is largely unanimous in its support for Georgian territorial integrity and does not recognize the breakaway regions, their leaders, or their elections.
According to analyst Alexander Rusetsky, the internally displaced population from the disputed territories should be allowed to participate in alternative elections. He believes that Tbilisi has not done enough in this regard.