Georgian Dream supports Alasania's paramilitary accusations
By Gvantsa Gabekhadze
Tuesday, March 27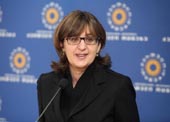 The Georgian Dream coalition has released an official statement regarding the so-called partisan paramilitary groups forming in west Georgia.
"The document given by the leader of [Our Georgia]-Free Democrats, Irakli Alasania, to the [National] Security Council revealed locations where armed formations were trained and provided a list of their members. Our suspicions are well-grounded and it is confirmed by the fact that individuals with a criminal past and former convicts are on the list," coalition spokesperson Maia Panjikidze said.
Georgian Dream also rejected the administration's explanation that the groups are voluntary military reservists. "The conception of a voluntary reserve is being worked on now, by which the government is trying to legalize the illegal and create a legal foundation in response to Alasania's statement," Panjikidze asserted, noting that National Security Council Secretary Giga Bokeria's dismissive response to Alasania's concerns prove that the Free Democrats are correct.
She says that the creation of such groups in Georgia is not new, as previous governments used them in the past to intimidate citizens and put pressure on opposition members.
The government denies the accusations, insisting that the materials presented by Alasania do not contain proof of any illegal activity. The Ministry of Defense stated that reserves are being created through a voluntary process, for military emergencies or in case of natural disaster.
The Free Democrats have also raised the issue of the detention of one of their activists, Sergo Chachibaia, in Zugdidi, which they linked to the information released by Alasania. A statement was made by Davit Usupashvili, leader of the Republican Party, supports this assertion, claiming that Chachibaia was detained for political reasons, as the cited offence of fighting and disobeying police orders are not supported by witnesses.