Saakashvili raises issue of nuclear smuggling at summit
By Ernest Petrosyan
Wednesday, March 28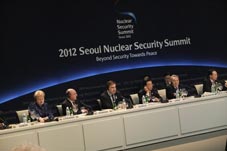 President Mikheil Saakashvili emphasized threats coming from Georgia's breakaway regions while addressing participants from more than 50 countries at the 2012 Seoul Nuclear Security Summit plenary session on Monday.
In his address, President Saakashvili focused on the threats that may come from Georgia's breakaway territories of Abkhazia and South Ossetia, from the point of view of spreading nuclear materials.
The President announced that these territories are "black holes for smugglers" and they are out of Georgian control. Russian President Dmitri Medvedev was among those leaders present for Saakashvili's speech.
Saakashvili was accompanied to Seoul by Foreign Minister Grigol Vashadze, Defense Minister Bacho Akhalaia, and the Minister of Energy and Natural Resources, Aleksandre Khetaguri.
At a session titled, "National measures and international cooperation to enhance nuclear safety including future obligations", leaders adopted a joint communique, which envisages cooperation in global nuclear security architecture, non-proliferation, and transportation of nuclear materials.
The summit in Seoul is the second such event. The first nuclear security summit was hosted by United States President Barack Obama in Washington in April 2010, in which President Saakashvili also participated.
In his address to world leaders, Obama called on all nations to fight nuclear threats jointly. Chinese President Hu Jintao voiced a similar proposal, to create joint groups to neutralize nuclear risks.
Other guests of the summit were given five minutes each to deliver speeches. During his five minutes, Saakashvili also spoke about the measures and legislative amendments that his government has implemented to eradicate the spread of nuclear materials and provide nuclear security on Georgian territory.
According to Saakashvili's office, alongside the summit, the President will meet with his South Korean counterpart Lee Myung-bak.
Obama, while delivering a speech at the Hankuk University of Foreign Studies prior to the summit, mentioned the efforts of Georgia and Moldova, noting that these countries "have seized highly enriched uranium from smugglers".
The Nuclear Security Summit 2012 opened in Seoul at 4 a.m. Tbilisi time, and was partially closed to the media. Journalists were only able to attend the speeches made by Lee, Obama, and Hu.