German baby food tycoon speaks about organic agriculture at ISET
By Gvantsa Gabekhadze
Wednesday, March 28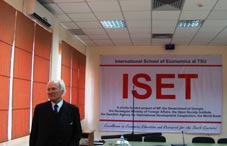 The International School of Economics at Tbilisi State University (ISET) recently hosted Claus Hipp, the CEO and owner of the largest organic baby food manufacturer in Germany, Hipp. He delivered a presentation to ISET faculty, students, and alumni titled, "Only Living Soil is a Healthy One".
Well-known in Germany as an outspoken businessman and promoter of organic agriculture, Hipp also has many ties to Georgia. He is President of the German Business Association in Georgia, professor at the Tbilisi Art Academy, holder of an honorary doctorate from Tbilisi State University, and honorary consul of Georgia in Munich.
Thanks to these experiences, he is very familiar with Georgian agricultural potential. Hipp noted that the country has a great climate and soil conditions, especially suitable for food manufacturing. He also spoke about the high quality of Georgian apples and their export potential, saying that his company is very interested in Georgia.
Other entrepreneurs and investors have recognized that Georgia has great potential to manufacture and export its agricultural products, a potential that has also been recognized by the government, which has made that sector one of its priorities for 2012.
Hipp also discussed organic foods, which are foods produced using methods that do not involve synthetic inputs such as pesticides and chemical fertilizers, are not processed using industrial solvents or chemical additives, and/or do not contain genetically modified organisms. Scientific evidence has not shown a significant difference between organic and more conventionally-grown food, in terms of safety, taste, or nutritional value.