Saakashvili accuses Russia of trying to intimidate Georgians
By Gvantsa Gabekhadze
Monday, April 2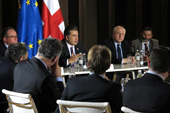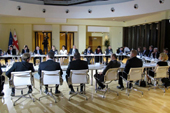 Russia's planned military exercises and the importance of the upcoming parliamentary elections in Georgia were the topics addressed by President Mikheil Saakashvili in a meeting with Euronest (Eastern Partnership) Parliamentary Assembly members on March 31.
"It is not a coincidence that our neighbour scheduled its large-scale military exercises for the second half of September, just several days before elections [in Georgia]. This timing is really not a coincidence," Saakashvili said.
The President reiterated that all efforts will be made by the Russian government to discredit the elections, "...to intimidate Georgians through use of force and... to bribe Georgian voters with money from that very same country [Russia]". He maintained that the Georgian people will not allow Russia to change the course of their country.
Despite such trust in Georgians, Saakashvili emphasized that an international role in the elections is very important.
"We want international organizations to carry out many public opinion surveys in order to not let various elements, hired with foreign money, manipulate the public opinion survey carried out on election day," he said. "So large international organizations in Georgia should be carrying out polls weekly or monthly, if possible, in order not to allow those who are willing to discredit the electoral process from discrediting it, and [to prevent] them from imposing some mess".
Together with the President's statements, Parliament finished its first reading of a draft amendment to the Law on Political Unions of Citizens, which includes provisions regulating party funding. Among the key changes are: a narrower circle of entities falling under the law's regulations; the wording "directly or indirectly related" to be removed; fines imposed by the state audit agency will be reduced; a 0.2% of GDP cap on donations/spending to be amended; courts to have more say over the state audit agency's decisions; and the state audit agency will no longer have the right to demand barring a political party from running in elections.
The proposed amendments "actually change nothing for political players," said MP Gia Tsagareishvili, a member of Our Georgia-Free Democrats, one of the parties in Bidzina Ivanishvili's Georgian Dream coalition. He also said that the authorities have introduced new party funding regulations and empowered the state audit agency with broad, new authorities merely to target Ivanishvili and his supporters.
Responding to Tsagareshvili, members of the administration noted that the auditing body, the Chamber of Control, will not be left "without power", especially when Ivanishvili's coalition gives reasons to be audited.
"It's wrong if someone thinks that the Chamber of Control should not have a right to gather information and should be satisfied only by financial papers submitted by parties, especially now when it has become obvious that there are lots of individuals who try to somehow bypass restrictions set by this law," United National Movement MP Pavle Kublashvili stated.
Military analyst and representative of Georgian Dream, Irakli Sesiashvili, gave a different view of the issue. As he told The Messenger, military training planned by Russia does not aim to put pressure on Georgia, as there is no need for this from the Federation. "I consider the main aim of the training as putting pressure on the West and as a demonstration of military power. As for Georgia, Russia does not do this [for] Georgia as it has quite serious military bases in our occupied regions".
As for the President's statement, Sesiashvili mentioned that Saakashvili sees Russians everywhere and can connect this to any issue. "Saakashvili's main goal is to show the West that if he loses the elections in Georgia, Russia will win, which is completely absurd. The West knows the reality perfectly and its demands to hold free elections reveal this." The analyst also took notice of frequent mentions of Russian money by Saakashvili, saying that this is the statement of an "unscrupulous" President, coming from his narrow interests, and not those of the state. "With such a statement he insults the opposition, including me, which have an open and clear pro-Western course and ideology. All of Georgia knows it. Georgian Dream has definite pro-West targets. Despite the National Movement's attempt to persuade people differently through its controlled media, Georgian and the West know this."
As for the Law on Political Unions, Sesiashvili calls the law "dragon-like", and says it should be renammed the "Law Against Bidzina Ivanishvili". "Even if some parts of the law are lightened, the essence of the law would remain the same, targeted to oppress Ivanishvili. The National Movement is using administrative resources [to do this], we know it, however we currently do not have enough proof to prove this."