Rally seeks to engage Georgians on six fronts
By Salome Modebadze
Monday, April 2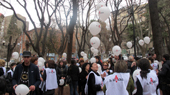 Six different problems united civil society and non-governmental organizations at Gudiashvili Street in Tbilisi on March 31. Human rights protection, accessibility of educational institutions, fair elections, media freedom, cultural heritage, and environment protection were the issues on which protesters demanded action, in order to improve the general environment in the country.
A solidarity rally took place at 3 pm, in six squares of the capital simultaneously. Participants of the rally drew attention to those issues they say are important for every citizen regardless of status or profession.
In order to achieve free and fair elections, protesters discouraged "chasing for political reasons" and "oppression of the voters." Magda Popiashvili from the "It Concerns You" campaign said that many things still need to be changed in order to improve the electoral environment.
Leader of Our Georgia-Free Democrats Irakli Alasania joined the rally, calling it "a rally of free citizens." Stressing that people need their right of free expression to participate in the country's development, Alasania said that only a free citizen is the guarantee of peace and stability in the country. "People have lost their sense of self-confidence, so we have to return to them this feeling through solidarity," he said.
"People have grown tired of living in lies, so I think this all would grow into an organized civil-political protest," Free Democrats MP Gia Tsagareishvili added.
The Georgian Young Lawyers Association gathered at Saakadze Square with other protesters to remind people how often human rights are being violated in the country. As lawyer Eka Beselia noted, it is impossible to think of any other rights if you have human rights violations. "Human rights protection is of the highest value, [but] unfortunately it has been devalued in this country," journalist Teona Gegelia said.
Members of the media demanded press freedom at Avlabari square. According to Shorena Shaverdashvili, editor of Liberali magazine, the media lacks freedom in Georgia. "It's difficult to spread information in such an environment especially before elections," she said, encouraging civil society towards more active engagement and solidarity to ensure the fairness of elections.
Under the slogan "Education is not a product that can be sold", students supported by the Civil Development Institute gathered at Vake Park.
Opposing the disconnect between prices and quality at higher education institutions, the students discouraged reforms in the education sector, which according to them, prevents enrolees from getting a relevant education.
"I deeply believe that students have the greatest power to change the environment in which they live if they remain organized. But first of all they have to realize what they dislike in that environment and also define what kind of environment they want to have," Ia Antadze, chair of the Civil Development Institute, said, adding that the youth should have developed a critical mind in school.
Encouraging civil society to "raise their voices" and start taking about problems faced by young people nowadays, protesters worried that in most cases students are not informed about important changes carried out at their universities.
After the themed protests, participants of all rallies gathered at Gudiashvili Square.
As one of the organizers of the campaign, journalist Alexander Elisashvili, said, the rallies have illustrated many of the problems Georgians are facing nowadays. Stressing that they want "to live in a normal country", he said the campaign will move to the regions and protest the government's unpopular policies there.