TBC introduces mobile banking for iPhone and Android
Tuesday, April 10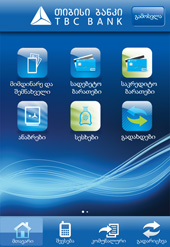 In May, in Georgia TBC Bank is the first to offer its clients the most comfortable distance banking service – special versions of mobile banking for iPhones and Androids.
Created for improved mobile banking service of TBC Bank, these applications enable iPhone and Android users to contact the Bank and carry out a desirable transaction, or receive banking and financial information.
In particular, through the application of mobile banking at TBC Bank, iPhone and Android users will be able to check out their accounts, pay bills, pay into their mobile phone accounts, transact sums within Georgia, contact the call centre, get informed about the exchange rates, be aware of the distance between the nearest TBC Bank branch and/or ATM and them at a specific moment through a special online map (Google Maps)…
New mobile banking of TBC Bank is going to be the first refined mobile banking service within the Georgian banking service.
More importantly, applying to the mobile banking will be free and holds no necessity for users to register – signing in mobile banking will be possible with the username and password used when applying to internet banking.
The user has only to download the relevant application from App Store (for iPhones) or from Android Market (for Android) and they have the most convenient and up-to-date mobile banking in Georgia, with lovely designs and multiple functions having no comparison with any other existing on Georgian market.
The special application for iPhone and Android will be available in May of the year 2012. By the end of the year every user having an Internet browser on the phone set will be able to use the service that is the majority of the phones on Georgian market.
All these innovations are implemented within the new project of TBC Bank, aiming at creating the best model for distance banking service in the region and enabling its clients to receive a full banking service anywhere, round the clock, any day of the week, without going to the bank.
Offered in February, the Bank provided its clients with the first part of the project which was state-of-the-art internet banking and it was highly approved by the clients.
Creating mobile banking for iPhone and Android types of phones was the next stage of the project to be offered to the Bank's clients in a month.