Tibilov victorious in S. Ossetia presidential runoff
By Ernest Petrosyan
Tuesday, April 10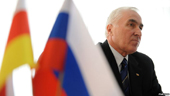 The repeat presidential elections in South Ossetia have concluded with the election of former local KGB chief Leonid Tibilov, Moscow's choice in what critics called a "predetermined" race.
The Central Election Commission reported that Tibilov won Sunday's runoff with 15,786 votes, or 54.12%. As for David Sanakoev, the breakaway region's special envoy for human rights, he came in second with 12,439 votes, or 42.65%.
Sanakoev chose not to oppose the result, and congratulated Tibilov on his victory while announcing his plans to establish a new political party.
Since South Ossetia first sought independence from Georgia in the early 1990s, Tibilov has been heavily involved in the governance of the region. He headed the territory's state security committee (KGB) and became involved in the work of Joint Control Commission, a now-defunct negotiating body on Georgian-Ossetian issues. He also chaired the board of directors of a local bank in Tskhinvali between 2007 and 2009. Tibilov's most recent official post was as a consultant to the South Ossetian President's special envoy for post-conflict issues.
Sunday's election was the second round, held two weeks after a poll on March 25 failed to declare a conclusive winner. The latest poll occurred in the wake of November's disputed presidential election, in which opposition candidate Alla Jioyeva won but had her victory annulled by the region's Supreme Court.
Elections in breakaway regions are not recognized as legitimate either by Tbilisi or by the international community, with the exception of Russia and a handful of small states that have recognized their independence.
"Not a single act in that territory can be considered as legal as long as this territory remains occupied and as long as people are not allowed to return back to their homes," Deputy Foreign Minister Nino Kalandadze re-iterated on Monday.
"After Russia's total failure in the first attempt [in November] to install its favourite candidate, it seems they prepared much better for [the repeat election]," asserted Davit Bakradze, Speaker of Georgian Parliament.