Tourism exhibition emphasizes business travel
By Etuna Tsotniashvili
Tuesday, April 10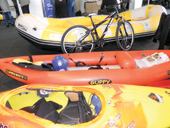 The14th international tourism exhibition was held in Tbilisi from April 6-8. Approximately 90 Georgian and foreign tourist and food-service companies displayed their products and services at the Expo-Georgia exhibition centre. Hand-made and folk souvenir enterprises were also in attendance, as were businesses from Ukraine, Azerbaijan, Turkey, Germany, and Thailand.
"We have put an accent on business and conference tourism development this year. This is a specific direction in the tourism sector through which we can invite foreign and international companies to hold exhibitions, conferences, and forums in our country. As a result, we will employ more people. Tourism is a key component [of the economy] as its development can create a lot of jobs and that is our priority," Vera Kobalia, Minister for Economy and Sustainable Development, said at the exhibition's opening ceremony on Friday.
"These types of exhibitions are very important for the popularization of Georgia's tourism potential. We are glad that Georgian, as well as foreign, companies are participating in the exhibition," Chair of Georgian National Tourism Agency Maia Sidamonidze said.
Ia Kverghelidze, Deputy Director of Adventure Club Jomardi, said that her club has officially opened the summer season and is offering tourists an exciting ski, bicycle and rafting tour in just one day.
"We are celebrating the opening of the summer season by offering tourists three types of extreme tourism in one day: early morning – skiing/snowboarding in Gudauri, biking from Gudauri to Pasanauri, and finally rafting in Pasanauri on the Aragvi river," Kverghelidze told
The Messenger
. Along with extreme packages, Jomardi also offers tourists a wide range of cultural tours throughout Georgia.
Tamar Buchaidze was at the exhibition representing small enterprises that produce traditional Tusheti carpets and souvenirs. According to her, their products are sold in villages on tours in Kakheti.
Maiko Chitaia, the Marketing and Sales Manager of Citadiness Hotel, said that the events like this are important for networking and finding potential clients.
"Our hotel can host conferences, exhibitions, and different events for all needs. This exhibition is very important as we have the opportunity to sign contacts and [create] relationships with partners and foreign guests," Chitaia said, adding that she would have liked to have attended business meetings with neighbouring country representatives, and hopes that next year's exhibition will include higher-level talks.