Saakashvili invites unlimited foreign observers to elections
By Gvantsa Gabekhadze
Tuesday, April 10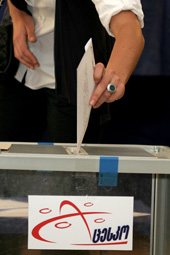 Presidential spokesperson Manana Manjgaladze held an urgent briefing on April 6 in which she announced that Mikheil Saakashvili has appealed to the international community to observe the Georgian parliamentary elections as early as possible, which she called an unprecedented decision.
Letters have been sent to the OSCE Office for Democratic Institutions and Human Rights, the OSCE Parliamentary Assembly, the Council of Europe Parliamentary Assembly, and the NATO Parliamentary Assembly.
"Despite the amount of time left before the elections, the President wants to invite international observers in as soon as possible. The task [to invite them] has already been given to the Ministry of Foreign Affairs of Georgia. Our goal is to hold free and democratic elections in a maximally transparent environment," Manjgaladze announced.
An official statement released by the Ministry of Foreign Affairs said that the number of foreign observers is hoped to be unlimited. "The invitation to foreign observers seven months before the elections is unprecedented," it read, noting that the Ministry has already appealed to EU High Representative for Foreign Affairs and Security Policy, Catherine Ashton, to finance a media monitoring project, akin to one deployed in 2010.
Although the government has said that these invitations are an initiative of their own making, leader of Georgian Dream, Bidzina Ivanishvili, has called the decision the "first serious victory" of his coalition. "We have permanent contact with our foreign friends. Very serious pressure has been put on Saakashvili in order to make this decision... For the first time in our election history, foreign observers will come five months before the elections," Ivanishvili stated, adding that Georgian Dream would like to see monitoring of the media and the police as well.
As analyst Giorgi Khutsishvili told
The Messenger
, foreign observers will not be an obstacle to the administration's election plans. "It is really a very difficult situation in the state, especially in the regions, in the pre-election period. Generally, foreign observers do their jobs formally and not deeply, so it is just impossible that 4000 election districts can be properly checked by the observers; it would be impossible for such a large number of foreigners... to manage this. The authorities are just [going to act] as if they are going to hold free elections, when there are a lot of issues imposing serious doubts that the elections will be held freely," he said.
Khutsishvili also believes that the situation will not be different with the media either, calling it a very serious weapon during the campaign. "It is possible that there will be some political talk shows on different channels, however even those will be controlled by the government," he asserted.
As for what the opposition can do if his forecasts come true, he says that they must be active, especially in the regions. "Currently I do not see such activeness, [i.e.] massive meetings with people... The opposition must create an alternative platform... how they will act in the future and what they oppose in government strategy and policy."