New health action plan envisages quality control for medical services
By Salome Modebadze
Tuesday, April 10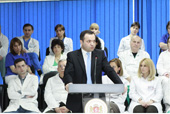 Every second person in Georgia will be insured by the end of this year, Minister of Labour, Health and Social Affairs Zurab Chiaberashvili announced on Friday.
While introducing a new action plan, the Minister said that there were only 40 000 people insured in 2006, but beginning this September, every pensioner and child under five will have state insurance policies.
Oriented on the well-being of each citizen, Chiaberashvili encouraged insurance companies to adjust their financial and legislative regulations on people's welfare and satisfy the demands of those patients who complain about problems within the sector.
Having met with socially unprotected people in the regions, Chiaberashvili suggested improving the methodology used to define the poverty level. Speaking of the high level of unemployment, he said a lot of people still cannot afford even elementary healthcare services. "We all know well how oppressive poverty becomes when one has health-related problems and needs relevant medicine," the Minister said.
The Mediation Service will control the relationship between the patients, insurance companies, and clinics. "Our goal is to see the problems," Chiaberashvili said, adding that quality healthcare services will soon be accessible for everyone. The Ministry also plans to create electronic databases comprising the medical history of all patients to "effectively control the efficiency of the system".
Highlighting the geographical accessibility of new, modernized hospitals, he said that investment in infrastructure is nothing without relevant human resources.
"The professional reputation of doctors and nurses is an important issue for each of us as potential patients. So everyone should ensure enhancement of the prestige of this profession," Chiaberashvili said, stressing that the healthcare system should be absolutely trustworthy.
As the Minister remarked, medical staff everywhere in the world sometimes make mistakes, "but the public should be aware that these are atypical mistakes not a systemic problem".
Hospital directors will be responsible for their staff but the state will create an effective mechanism for raising their professional qualifications and regaining public trust.
In order to upgrade their professional skills, the Ministry of Health plans to open training centres for doctors and nurses. Introduction of a so-called "clever" regulation system would also standardize treatment at each hospital and avoid potential mistakes.
Such guidelines and protocols will have clearly-defined methods for treating diseases, so if a patient complains about improper treatment the system could define who made the mistake and why.
"Guidelines and protocols are important for every clinic in order to avoid problems with patients and insurance companies," Dr. Levan Chakhunashvili said.
For Dr. Shalva Jorbenadze, increased quality control on particular procedures would positively affect the qualifications of the medical staff.
Access to quality medical services, competitive salaries for medical personnel, and an improved reputation would, according to Chiaberashvili, stabilize the achievements of the ongoing reforms and overcome the new challenges Georgia's healthcare system is facing nowadays.
The new action plan will be launched after internal discussions at the Ministry.