Ivanishvili begins to articulate his Georgian dream
By Salome Modebadze
Wednesday, April 18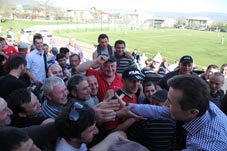 Georgian Dream leader Bidzina Ivanishvili spoke to supporters on Tuesday, at the opening of a campaign office in his native village of Sachkhere, Imereti. There, he revealed the beginnings of a policy platform for his coalition party.
In his remarks, he primarily targeted current President Mikheil Saakashvili, referring to his rule as a "one-man-based ideology". Ivanishvili encouraged the police not to obey any "illegal orders" of the President, and instead asked that they "serve the Georgian people".
Worrying that civil workers were being dismissed for supporting him, Ivanishvili claimed that all violators would be strictly punished if he comes into power. As he explained, Saakashvili been trying to fight his "real rival" through violence. "Cowardly men like Saakashvili can only use power against their people," Ivanishvili said, referring to individuals detained in January for gathering signatures in support of the restoration of his citizenship.
Expressing his gratitude towards his supporters and highlighting the need for more freedom of expression in Georgia, he explained that Georgian Dream will open offices in every region of the country in an effort to be as involved as possible. "I promise we will manage to promote Georgian aspirations and help people overcome any fear," he said, noting that this includes letting people speak their minds without repercussions.
Ivanishvili is confident that he can unite the entire country around his political team by the parliamentary elections, with the support of the international community, public sector, and some members of the media. He claims that, since January, his team has been able to show Saakashvili's "false democracy" to the US and Europe, and as a result the President has lost some international support.
Explaining that he entered politics for the welfare and development of his country, Ivanishvili suggested the creation of laws that would help develop Georgia, rather than those laws enacted by Saakashvili, which the opposition leader says only alters the Constitution to match the President's will.
Stressing that "everything should have its own function" Ivanishvili highlighted that a country belongs to its people and a government is accountable to its citizens, not vice versa, as he believes it is in Georgia today. Accusing the President of monopolizing the political process, he stressed the need to distribute power among regional self-governments, which will lose their mandates if they do not earn people's trust.
Noting how unprotected people are in Georgia nowadays, Ivanishvili promised to restore fairness and safety to the court system, media, and business environment immediately after winning the elections. Sharing his experience in the business sector, he stressed the need to release it from government pressure, and to deal with the problem of unemployment.
Ivanishvili said that the real "Georgian dream" is a united country based on democratic institutions, with strong citizens with a genuine opportunity to join the Euro-Atlantic space.
Stressing that Ivanishvili's entrance into politics was supported by the Georgian people, his coalition members encouraged everyone to "shape the future with Georgian Dream".