Ankvab assassin suicides continue
By Ernest Petrosyan
Thursday, April 19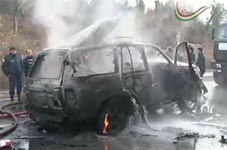 A series of suicides continues in Abkazia among suspects in an assassination attempt on the life of President Alexander Ankvab. According to the Russian news agencies RIA Novosti and Interfax, as well as local news agency Apsnypress, which cite undisclosed sources from the breakaway region's law enforcement agencies, one of the four accused, Timur Khutaba committed suicide by hanging himself in his jail cell overnight on Wednesday.
Kutaba was among four accused, including Anzor Butba, a well-known local businessman, who was undergoing a pre-trial detention last due to investigation on the attack on Ankvabs's motorcade in February, which resulted in the death of two of his bodyguards.
Preceding Khutaba's death, former Minister of the Interior Almazbei Kchach also committed suicide to avoid being arrested over an alleged links to the assassination attempt, Apsnipress reported.
Kchach served as Minister from 1996-2003 and then served as Secretary of the National Security Council until 2005. He was the running mate of presidential candidate Beslan Butba in 2009.
Another suspect, local resident of Gudauta Murman Sakania, unsuccessfully attempted suicide by cutting his throat just before law enforcement officers arrested him on April 17, according to Interfax. He was hospitalized with no life-threatening injuries.
According to Caucasian issues analyst Mamuka Areshidze, among the suspects were men who both carried out and masterminded the assassination. Areshidze believes that representatives of the preceding Ankvab administration are behind this attempt, as they faced corruption charges and government pressure on their businesses.
"These people were hostile towards Ankvab when he was acting Prime Minister and later on Vice President. Many of those lost or expect to lose their businesses, and some even were asked to return assets gained illegally," Areshidze said.
He thinks that the majority of former dignitaries, Kchach among them, were interested in Ankvabs' liquidation.
"The series of suicides and liquidations is not yet finished, and the process will be continued. Some prefer to return money, but it should be said that some cannot return it as it is already wasted; some prefer suicide to avoid prison," he added.
The attack on Ankvab's convoy on February 22 was the (disputed) fifth or sixth attempt on Ankvab's life since 2005. No one has ever been charged or arrested for previous assassination attempts.