Public Defender condemns Chamber of Control questioning
By Gvantsa Gabekhadze
Wednesday, May 2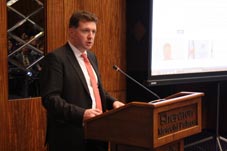 Georgia's Public Defender, Giorgi Tughushi, has concluded that activities carried out by the monitoring service of Chamber of Control constitute definite administrative and constitutional violations.
The monitoring department of the Chamber, which was granted the right of financial monitoring of political parties, questioned political party members in the rural regions in a manner than inspired protest among the public. The Chamber maintains that they were merely undertaking an investigation into financial information concerning the parties.
Tughushi's report was sent to the Chair of the Chamber of Control, Levan Bezhashvili. In it, he outlines the procedural shortcomings, poor notifications sent to those called in for questioning, and unpleasant attitude of the employees of the special service of the state guard, and improper treatment of journalists.
According to the report, those individuals called in for questioning did not know the subject of their interview, and they were often kept for several hours during the workday before they were questioned. Some were also treated roughly (clothes and shoes pulled off, frisking with hands and metal detectors).
The Public Defender noted that the individuals questioned "had been asked questions not only concerning financial issues. The questions also related to their political views and some other personal information". Tughushi maintained that the secrecy of personal information was violated, as the Chamber possessed documents from the investigation that contained a great deal of confidential data.
The report also found that the rights of media representatives were also violated as they were prevented from carrying out their professional activities.
The Public Defender has recommended detailed rules to be drafted if such interviews are necessary in the future, including transparency of how and when questions will be asked. He affirmed that any violations of ethical norms must be punished, and that video and audio recordings of the entire questioning process must be taken.