European citizens granted right to participate in Georgian elections
By Gvantsa Gabekhadze
Tuesday, May 8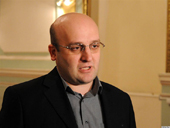 Citizens of European Union nations, who are over the age of 21 and have lived in Georgia for at least 10 years, are eligible to participate in Georgian elections, Pavle Kublashvili, head of the Parliamentary Legal Committee, announced on Monday. However, this amendment to the Constitution will operate only for three years and then will be abolished.
"It will be a transitional provision and after three years it will be cut from the Constitution. The decision was made [to put to bed] speculation about someone being disabled from taking part in the election process," Kublashvili said.
The foreign citizen must have been born in Georgia, and lived in this country for the past three years. He or she is then granted both active and passive election rights, meaning they will not only be able to vote, but are allowed to run for office, including seek a seat in Parliament.
Some opposition parties have criticized the new law, but as representative of Georgian Dream, Tina Khidasheli, said, "The coalition will act based on the law and in the legal framework".
The Georgian Young Lawyers' Association says the new law is a threat to Georgian sovereignty, and questioned the effect on state secrets. "If a person, the citizen of a foreign European state, is elected to Georgian Parliament and then decides to serve in his own state's military forces, how will Georgian state secrecy be protected?" the group asked.
Analyst Malkhaz Chemia called the law a "Trojan horse" and "treasonous", saying that such a precedent does not exist in any European state. "It is a very dangerous change for the country... Several years ago Germany, France, and some other countries refused Georgia's membership to NATO. If there were representatives of Germany in our Parliament, there is a serious chance such representatives would follow the directives of his own country's leadership," he remarked. Chemia noted that the change was made for just one person – Georgian Dream leader Bidzina Ivanishvili – due to pressure on the government and because the President "is acting like a stubborn child". He also accused the Christian Democrats, the party that introduced the draft law, of being a "government surrogate".
According to fellow analyst Nika Chitadze, the Georgian opposition is permanently unsatisfied, consistently negative, and only ever blame the government. "Of course, it is not [acceptable] when some changes are carried out in the Constitution for one person, but on the other hand the change enables Ivanishvili to take part in the elections, which would reveal which power is really trusted and supported by the people," he said.
Chitadze expressed suspicion that the law could impact national security, doubting that truly important information would be distributed to Parliament.