Rasmussen confirms Chicago not "an enlargement summit"
By Ernest Petrosyan
Tuesday, May 15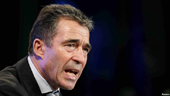 In an interview with RFE/RL, NATO Secretary General Anders Fogh Rasmussen said that the upcoming Chicago summit will include "a very visible way" in which NATO will acknowledge both Georgia's achievements and its contributions, but will not address the issue of membership.
Asked whether Georgia's contributions to the ISAF mission in Afghanistan are helping it move closer to membership, Rasmussen responded: "The Chicago Summit will not be an enlargement summit, but we will definitely acknowledge the progress Georgia has achieved during recent years".
"We will acknowledge that progress in our declaration from the summit. We will also acknowledge Georgia's contributions in a very visible way," he maintained.
Rasmussen said that Georgia will participate in three important meetings at Chicago. "Georgia will participate in the ISAF meeting on Afghanistan. Georgia will participate in a special-partnership event, a gathering of 13 partners across the globe that contribute to NATO operations in a very significant way... Georgia will also participate in an aspirant-countries meeting at the level of foreign ministers. So it will be in a very visible way that we acknowledge what Georgia has achieved and what Georgia contributes to the trans-Atlantic alliance," Rasmussen concluded.
According to analyst Nika Chitidze, a membership action plan will not be discussed at the summit. However, NATO will likely discuss the country's reforms and ISAF contribution, finally including Georgia as an aspirant state in its communique. The issue of fair elections may also be stressed.