Tbilisi Fashion Week returns
By Etuna Tsotniashvili
Tuesday, May 15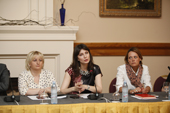 Tbilisi will be especially fashionable from May 17-20, as Georgia's capital hosts the Tbilisi Fashion Week.
Fashion Week will open with one of the best-known Georgian designers, Tamuna Ingorokva, as well as a photo exhibition of Mavi accessories by photographer Irakli Pirveli. Alongside fashion shows, an exhibition of accessories will be held in which works will be available for purchase.
According to Tako Chkheidze, one of the organizers of the Week, the number of volunteer designers was especially large this year, with eight veteran designers and 20 newcomers taking part.
The Sixth Annual Tbilisi Fashion Week is presented by Bank Republic Societe Generale Group. Shows will hosted by the newly-opened Buddha Bar. Eco Food will be on hand to provide models with healthy snacks.
"Bank Republic Societe General is happy to be a partner of Tbilisi Fashion Week this season. Our bank has become more active recently and it participates in various events, we are trying to involve such events. We have number of surprises and innovations which we will offer to our guests during these days," Marketing and PR Manager of Bank Republic Societe Generale Group Eka Toroshelidze said.
Guests from France, Italy, and Ukraine are expected to attend.