Davit Gareji monastery caught in border dispute
By Gvantsa Gabekhadze
Tuesday, May 15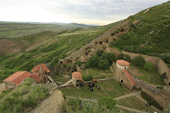 The Davit Gareji monastery complex, a national historic monument, is facing an unprecedented threat. According to resident monks, Azeri border guards have moved into monastery territory, disrupting prayers and tourist activity.
As Deputy Foreign Minister Nino Kalandadze said on May 14, the border demarcation process between Georgia and Azerbaijan has been progressing "more or less successfully," however the process is still not concluded. "We are concerned... several working groups have been created on the delimitation case and active actions are underway, however the process is complicated and the problem requires time," she commented.
The Georgian Patriarchate has also become involved in the controversy. Father Mikael told The Messenger that as soon as Azeri border guards appeared on monastery territory, the Patriarchate informed the Ministry of Foreign Affairs. He says that they contacted to the Ministry and were promised to discuss the issue after the Minister's arrival to Tbilisi on Monday , however they were responded that the situation became more complicated ," they did not gave more information ."
According to monastery representatives, an agreement had been reached with the Azeri government several years ago that until the border matter was settled, visitors from both countries were welcome at the complex. "The border problem is still unsolved and the Azeri side did not have any reason to violate the agreement," Archimandrite Ilarion told Kviris Palitra.
A monk named Kirion noted that the problem has existed, in one form or another, for years, but that the Georgian government has done little to accelerate the border demarcation process. "The problem is red tape. As the current government does not worry about the issue, we had no other way but to involve the media, to tell Georgians that Davit Gareji is... being taken away from us," he said.
Zviad Dzidziguri, leader of the Conservative Party and representative of the Georgian Dream coalition, visited Udabno Monastery and reported that Georgian border guards were also preventing people from visiting the monastery, while Azeri guards claimed that the "situation had changed" since May 6. Dzidziguri demands that the government release all documents related to the border dispute and explain why problems have emerged now.
A facebook group called "Return Davit Gareji" has been created in protest, with 38,994 members already. A protest is planned for May 20 at 2pm in Vake Park, which will march from the Azeri Embassy to Parliament demanding full disclosure of the border dispute.
Currently, Georgia only has a secure border agreement with Turkey, while the process with Armenia and Azerbaijan is still ongoing. Disputes relate back to the dissolution of the Soviet Union, and the internal republic borders dictated by Moscow. There are three important cultural and historic Georgian monuments situated on disputed land between Georgia and Azerbaijan - Chichkhituri, Udabno, and Bertubani monasteries, all of which are part of the Davit Gareji monastery complex. That land was given to Azerbaijan in 1921, and the Azeri government claims that the monastery complex contains cultural importance to their nation as well.