Panjikidze disparages citizenship amendment, German Week
By Gvantsa Gabekhadze
Tuesday, May 15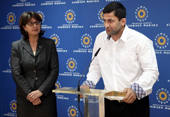 Spokesperson of the Georgian Dream coalition, Maia Panjikidze, said on May 14 that recent constitutional amendments create a "serious danger" for Georgian sovereignty.
She claims that a draft law that would allow select EU citizens to participate in Georgian elections will make the government accountable to citizens of other countries and politically-sensitive information may be brought out of the country.
"The changing of the Constitution was used to cover an illegal decision to seize citizenship from [Bidzina] Ivanishvili. The Constitution changes as the current leadership [sees fit]. If someone or something is a threat to them, they immediately change the Constitution," she asserted.
However, Chair of the Parliamentary Legal Commission Pavle Kublashvili, affirmed that "Ivansihvili will be able to participate in the elections and speculation concerning the issue will be ended". The second hearing of the bill is planned for May 15.
Panjikidze also complained about the Konrad Adenauer Fund, organizer of the events dedicated to the 20 year anniversary of German-Georgian diplomatic relations. "I was surprised that only government members, parliamentary opposition, and those analysts associated with the government were invited [to events]," she said.
"I had worked in the German Federal Republic for 13 years and three years during that period I was Georgia's ambassador. I thought that I would also have been invited there," she stated. Panjikidze earlier spoke at an event in Germany celebrating the anniversary, alongside Speaker of Parliament Davit Bakradze. They presented their competing views of the Georgian political landscape.
Panjikidze also announced that Georgian Olympic champion Zurab Zviadauri has been added to the coalition. Zviadauri claims that he made the decision despite "pressure" placed on him by unnamed sources.
Giorgi Asanidze, a former Olympian who is now a member of the United National Movement, expressed hope that Zviadauri would serve Georgia well and would not damage his own image.